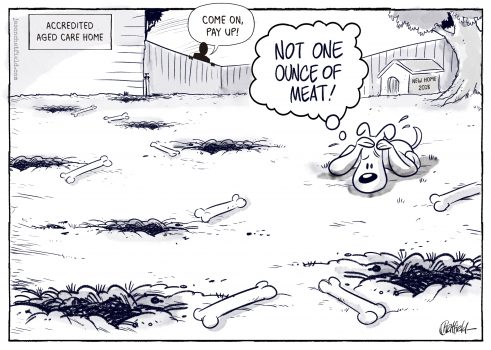 The proposal to charge providers for unannounced accreditation visits is a cost too high for an industry-specific quality assurance system, writes Wayne Belcher.
I have been back working in the aged care sector for almost twelve months now – first on an interim basis with Baptistcare in Perth, and for the past four months as chief executive with Braemar Presbyterian Care in WA.
One of the most common questions on my return to the sector is about the amount of change there has been in aged care since I left the sector back at the end of 2010.
One could say that the change has been enormous with refundable accommodation deposits now part of residential aged care and significant changes made to funding around client centred care in the community aged care sector.
On the other hand, one could quite calmly suggest that no great change has happened.
After all, since I first entered the aged care sector back in 1982, we have had at least fifteen (perhaps closer to twenty) Australian Government ministers with responsibility for aged care services. In that same period, we have had at least three major changes to the funding regimes that providers live with daily.
There have been several major reviews of aged care in Australia by either eminent consultants or the Productivity Commission. Reduction of recurrent funding seems to be getting more desperate. What's new?
There is no doubt that the major change to aged care in Australia by the then Howard Government announced in August 1996 and implemented some fourteen months later as the Aged Care Act was a momentous shift in aged care policy and service delivery in this nation.
That legislation has paved a way for better regulatory provisions around both built facilities and daily service delivery, with both components now strongly regulated under their respective compliance aspects.
The Australian Aged Care Quality Agency (AACQA) is responsible for the service accreditation delivered by approved residential aged care providers. The quality system itself is unique to Australia and does not equate to any international standards of quality assurance.
Could it simply be construed as covering the monitoring requirements of the arm of executive government and the bureaucrats who make departmental decisions about what is best for older Australians?
The accreditation system is not cheap with an application cost of between $3,000 and $22,400 per aged care facility, over a three-year period, and based on the number of places in that facility. Now we have the potential of being charged for an unannounced visit (read "spot check") per facility each year.
You read it correctly.
Not only do we pay for the accreditation process, we also will soon pay for the AACQA to do one of their mandated unannounced visits to the tune of between $2,700 and $5,880 per facility, per annum, depending on the facility size.
That effectively adds, as I read the discussion document, between 50 per cent and 90 per cent of the accreditation cost to providers.
This change is to cover the cost of the AACQA, not the cost of care.
The bones are bare. This is a cost too high to be afforded by the providers of our aged care services for an industry-specific quality assurance system.
Wayne Belcher is chief executive of Braemar Presbyterian Care in WA.
Comment below to have your say on this story
Send us your news and tip-offs to [email protected] 
Subscribe to Australian Ageing Agenda magazine and sign up to the AAA newsletter