In this story:
NFP doubles its residential care portfolio with acquisitions
Work underway on Carinity's $55 million development
IRT's innovative Kemira opens
$100 million Corinda site opens
Resthaven upgrades facility
NFP doubles its residential care portfolio with acquisitions
Victorian not-for-profit provider mecwacare has acquired six residential aged care facilities, increasing its portfolio to over 700 beds in 11 facilities across Melbourne and regional Victoria.
Mecwacare announced it would commence ownership and management of the six facilities:
Atchison Centre, Box Hill; 31 beds
Simon Price Centre, Mont Albert North; 53 beds
Vincent House, Westmeadows; 30 beds
O'Mara House, Traralgon; 66 beds
Elstoft House, Hamlyn Heights; 91 beds
May Noonan Centre, Terang, 40 beds
The majority of staff, volunteers and facility managers across the six facilities had opted to join mecwacare, the provider said.
CEO Michele Lewis said she welcomed the new staff and volunteers and the knowledge, experience and diversity of skills they brought.
Work underway on Carinity's $55 million development
Construction on a new $55 million integrated aged care and retirement development at Mudgeeraba is underway following a recent sod turning event.
The new Carinity development consists of a 96-bed aged care facility, 88 two-and-three-bedroom retirement villas and 20 assisted living units.
City of Gold Coast Mayor Tom Tate said the development was a positive step towards providing vital infrastructure for the city's growing aging population, as well as new employment opportunities in the aged care sector.
Carinity's James Woods said the new community was created around a lifestyle focused on wellbeing and welldoing.
Stage one of the project involved building a $21 million contemporary residential care complex opening in mid-2017, he said.
The facility would incorporate a café, swimming pool, activities areas and dining rooms, an advanced nurse call system and staff-to-resident communications and resident Wi-Fi internet access.
IRT's innovative Kemira opens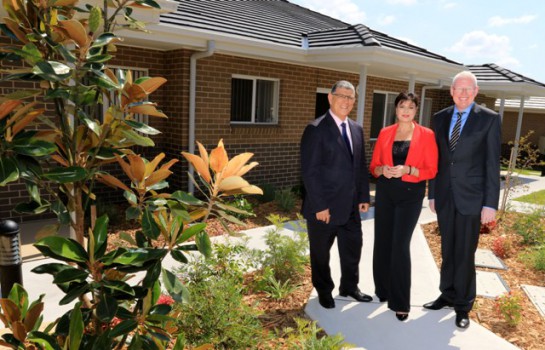 A new community for ageing people with intellectual disability and their primary carers built by NSW provider IRT Group has been officially opened by the state's minister for ageing and disability services John Ajaka.
Mr Ajaka praised the facility as it enabled people with intellectual disability to age in their home and community, in a supportive environment.
Kemira at IRT William Beach Gardens features 12 universally designed villas, a community centre, and a five-bed respite centre.
IRT Group CEO Nieves Murray said the community was founded on the Pathways through Partnership model, designed to keep families together in a supportive environment as they age.
The model was developed by IRT Group, Greenacres Disability Services, Interchange Illawarra and Community Gateway, and is supported by the University of Wollongong, which is evaluating the model as a blueprint for other providers.
The NSW Government contributed $2.9 million in funding for the project from the $100 million Restart NSW Illawarra Infrastructure Fund, with $2 million in additional funding and in-kind support from IRT Group.
Read AAA's previous coverage on the development here
$100 million Corinda site opens first stage
Queensland's newest luxury retirement living complex, the $100 million Kingsford Terrace at Corinda, officially opened its first stage yesterday.
Stage one of the five-stage development being built by aged care provider PresCare was completed late last year, consisting of 34 one, two and three-bedroom apartments.
PresCare CEO Greg Skelton said work would soon commence on stage two of the facility, which would feature a large community centre incorporating a café and function space, indoor swimming pool, wellness centre, library and lounge.
Brisbane's Woollam Constructions have been awarded the $21 million contract to build stage two, which will also include 30 balcony apartments.
Resthaven upgrades facility
South Australian aged care provider Resthaven recently completed a redevelopment of part of its Mount Gambier facility.
To meet growing demand, Resthaven late last year converted some serviced apartments into premium single residential living accommodation in the new 'Wattle' area, said manager Lisa Sutcliffe.
"The conversion was undertaken by local family builders, Dycer Constructions, at a cost to Resthaven of around $300,000."
Ms Sutcliffe said the Wattle project had been a great success. "Dycer Constructions interacted really well with the residents. They were very good at maintaining a clean, safe worksite, which is of utmost importance for the safety of residents, staff, family and friends."
Have we missed an expansion or opening? Send us the details [email protected]