There is mounting speculation that Senator Mitch Fifield will be promoted by Prime Minister Malcolm Turnbull when the Federal Government ministerial line-up is announced on Sunday.
Senator Fifield is currently Assistant Minister for Social Services, with responsibilities for aged care and the National Disability Insurance Scheme.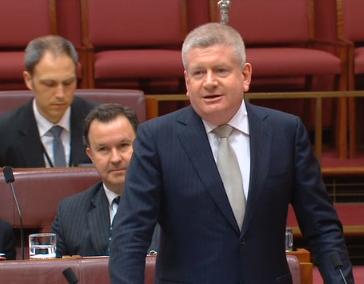 Several political commentators and journalists have reported that Senator Fifield is in line for a promotion come Sunday, meaning responsibility for aged care could be handed to a new minister.
One scenario could see Senator Fifield promoted to the senior position of Minister for Social Services (currently held by Scott Morrison, who is widely tipped to become Treasurer), thereby retaining oversight of aged care, though direct handling of aged care would fall to a newly appointed assistant minister.
The impending ministerial reshuffle has also revived arguments for the government to appoint a dedicated minister for ageing.
When the Coalition took office in September 2013 it moved ageing from health to the social services portfolio, with direct responsibility for aged care handed to Senator Fifield, who, as an assistant minister, was in the outer ministry. This demotion of aged care from the cabinet was seen as a concern from some stakeholders, as Australian Ageing Agenda reported at the time.
In its Blueprint for an Ageing Australia released last September, the Advisory Panel on Positive Ageing called for the reinstatement of a dedicated minister for ageing, reporting to the Prime Minister.
This week, the chair of the panel Everald Compton revived the argument, saying that the ageing population had implications for a range of areas including housing, transport, pensions, superannuation and retirement savings, mature-age employment, health and elder abuse.
"Clearly, all these issues cover a wide range of ministries and many government departments," Mr Compton wrote. "So a Minister for Ageing would be a strategy coordinator working closely with ministerial colleagues in implementing a long-term plan for ageing."
Similarly, on Wednesday, Aged and Community Services Australia, called on Mr Turnbull to appoint a minister for ageing.
"The sector has been ably served by Senator Mitch Fifield as Assistant Minister for Social Services but it is extraordinary that this policy area encompassing 14.7 per cent of Australians – and increasing – was represented in Cabinet by the Minister for Social Services, while the Assistant Minister had day-to-day responsibility for ageing and aged care," said ACSA chief executive officer Adjunct Professor John Kelly.
"This was at a time of huge change when the two departments involved were ill-equipped to handle the implementation of the reforms."
The social services portfolio had responsibilities for families, housing, social services, aged care and disability services, while ageing covered a range of complex social and economic dynamics that would be best served by its own minister, Dr Kelly said.
"This minister would ensure a coordinated government approach to aged care, health and palliative care, housing, employment and training, transport, dementia, discrimination, pensions, superannuation and other financial matters, as they affect older people," he said.
Commenting on this week's events, Leading Age Services Australia CEO Patrick Reid said that while there was a lot of speculation, regardless of what happened in the ministry it was "business as usual for LASA in ensuring sensible and worthwhile policy decisions are made.
"Mr Turnbull has stated numerous times this week that his focus is the economy, and given age services is our country's biggest growth sector we expect age services to be elevated in priority," Mr Reid said.
Meanwhile, the events in Canberra and their potential implication for ageing were a topic of discussion on Twitter:
If @TurnbullMalcolm wants to show a new style of leadership he must appoint a dedicated Minister for #ageing. #auspol #politas #agedcare

— Helen Polley (@polley_helen) September 15, 2015
PM @TurnbullMalcolm – congratulations on becoming PM. Please include a Minister for #Housing in your new Ministry. We need a national plan.

— Felicity Reynolds (@FlickReynolds) September 16, 2015
https://twitter.com/fiona272/status/643526658952175616
@TurnbullMalcolm @JulieBishopMP We look forward to our 29th Prime Minister delivering certainty for #ageing & #Agedcare @SenatorFifield

— Patrick Reid (@Patwreid) September 14, 2015
Want to have your say on this story? Comment below. Send us your news and tip-offs to [email protected] 
Subscribe to Australian Ageing Agenda magazine (includes Technology Review)