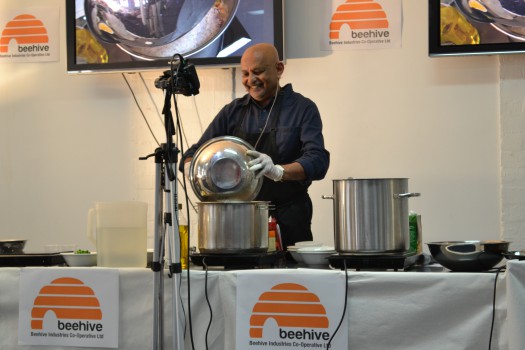 A social enterprise that supports disadvantaged seniors and people living with disability has launched a new low-cost meal program to assist older people to prepare simple meals on a budget.
Beehive Industries is a Sydney-based not-for-profit that has run activity programs to prevent social isolation among seniors and those with disabilities for almost 45 years.
At its centre in Darlinghurst, Beehive's clients have opportunity to do volunteer work and participate in leisure activities such as bingo, art and computer lessons. With the help of food donated from OZHarvest and FoodBank, Beehive also feeds its clients breakfast, morning tea and lunch each day.
However, chief executive officer Brendan Lonergan said that it has been clear for a long time that for many of Beehive's service users, these were the only meals they ate in the day.
Many Beehive clients lived in social housing or boarding houses, and all were on some form of pension or welfare support. Further, Mr Lonergan said that around 60 per cent lived alone, which could often mean they did not see the point in cooking a meal, especially when money was tight.
He noted an example of a man whose wife had recently died. She had cooked for the couple for 50 years, and now alone, the man was unsure how to prepare nutritious meals and was "wasting away".
"If someone's getting run down, they're getting sick, they're in and out of hospital all the time – it might be as simple as they haven't been feeding themselves properly, because they just didn't know how, it was too complex or they weren't motivated because they were lonely," he told Australian Ageing Agenda.
To help address these issues, Beehive Industries launched the Low Cost Meals for Seniors Program on 10 December. The program aimed to help seniors cook healthy, easy to prepare meals on a limited budget –  around $5 each.
All recipes were designed by Beehive Ambassador and MasterChef star Kumar Pereira, who under the program would run free monthly cooking classes and demonstrations for Beehive clients to teach them simple one-pot recipes.
"The idea is that it's simple, it's nutritious, and can be cooked by someone without any prior cooking skills. We don't want to limit people," said Mr Lonergan. "We want something that's quick and easy to prepare, so that people are motivated to get into it, and that it meets their budget."
Helping seniors 'all over the country'
The aim of the program was also to share these recipes with a much broader audience. Each demonstration would be filmed and shared online for free along with the recipe list on a new website to be established in February next year.
"If there's someone in Melbourne who wants to know about it, I'm happy to share it with them," said Mr Lonergan. "There are seniors all over the country who need a hand."
Mr Lonergan said he hoped that learning how to cook may have additional social benefits for seniors, especially those living alone, as it may motivate them to invite others over for a meal.
"If you want to invite a friend over, you just literally double the ingredients," he said. "They can have a meal, they can share their stories and maybe they can teach their friend how to cook too."

Want to have your say on this story? Comment below. Send us your news and tip-offs to [email protected] 
Subscribe to Australian Ageing Agenda magazine (includes Technology Review)