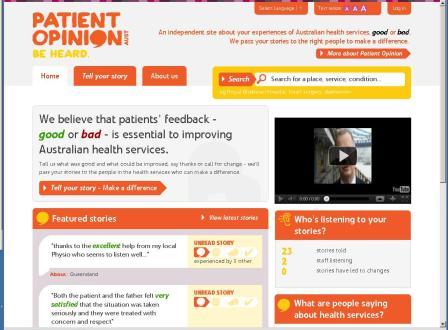 Above: The newly launched Patient Opinion website: www.patientopinion.org.au/
By Keryn Curtis
A new online patient feedback platform for the healthcare system in Australia, based on a successful UK model, was launched last week and aged care services are in its future sights.
The new website, Patient Opinion, is the offspring of the UK website of the same name which has been operating in Great Britain for six years.
A not for profit social enterprise, Patient Opinion aims to be a catalyst and a conduit for improving healthcare services by linking moderated feedback – positive and negative – from healthcare consumers to specific healthcare organisations and encouraging healthcare organisations in turn to respond.
The website describes itself as "An independent site about your experiences of Australian health services, good or bad. We pass your stories to the right people to make a difference."
Founder and CEO of the Australian website, Associate Professor Michael Greco, is a medical educator who recently spent seven years working in the UK's National Health Service (NHS) as Director of Patient Experience for the National NHS Primary Care Team.
He says the UK experience demonstrates that the website has the potential to revolutionise the patient experience and the way in which health providers and health networks engage with their consumers and the community.
"In the UK, 300 health care organisations such as hospitals and primary care networks, are signed up to [the UK version of] Patient Opinion and there are 36,000 patient stories on it. It has had a significant impact there and real changes have occurred because of stories written on the website." [see example]
"The website was named in the House of Commons in the [British] Parliament last year – they said they encourage patient-centred care, particularly where patients' voices can be heard, listened to and responded to, such as the website, Patient Opinion."
Professor Greco said the purpose of the website is to enable a safe, independent, constructive dialogue between the healthcare consumer and the health care service provider, to ideally bring about cultural change within the health system.
"Healthcare organisations are committed to providing the highest quality services for their patients and at the end of the day, what we are offering is service improvement."
Professor Greco said that while there are websites existing now where people can complain about their health services experience, the feedback doesn't go anywhere.
"With Patient Opinion, healthcare service providers are part of the dialogue and both the patient stories and the health provider responses are moderated independently to ensure messages are communicated clearly both ways.
"Healthcare providers, like hospitals and Local Hospital Networks and Medicare Locals can engage in a dialogue with the people experiencing their service. They have the chance to respond to feedback, reward positive behaviours and remedy any negative situations.
"It doesn't identify the patient so they can tell their story in a safe, confidential forum. And it promotes a dialogue with the service provider that's focused on service improvement and that's what is needed to bring about cultural change," he said.
Above: Professor Michael Greco, founder and CEO of Patient Opinion in Australia
How it works
There are three broad components to the Patient Opinion platform. First is the patient feedback component.
"We want the voice of the patient to be paramount and it is free for any member of the public to sign up and tell their story. They will be issued with a password and when they send their story, they will be notified that we have received it and it is being submitted for moderation. We have a clear editorial policy and stories must be within those guidelines.
"Once it is posted, they can then watch to see how many people are reading it and track any comments or feedback the story receives. They can choose to remain anonymous or can be identified in whatever way they prefer," says Professor Greco.
The second group is the health care provider organisations. While any individual or organisation can access and read stories on the website at any time, health care providers can pay a subscription fee that provides them with direct online patient feedback relevant to their organisation and emailed directly to up to 100 nominated staff within the organisation. Training and support services and other resources are also provided to paid subscribers.
"The third group," says Professor Greco, "is what we call the 'watchers'. These are, for example, the regulators, the MPs, the healthcare complaints commissions, the Australian Commission for Quality and Safety in Healthcare, the Clinical Excellence Commission in NSW etc. We will provide a free email alert service to these organisations."
While it is extremely early days for Patient Opinion in Australia, Professor Greco says there has been a lot of interest from Medicare Locals. West Moreton-Oxley Medicare Local in Queensland has backed the initiative, and will be facilitating Australia's first Patient Opinion blueprint in its Ipswich Psychology Clinic.
West Moreton-Oxley Medicare Local Chief Executive Officer Vicki Poxon said the initiative would provide a vital tool in giving the Medicare Local insight into how healthcare services in their region are being received.
"This program is entirely complementary to our role as one of the first Medicare Locals in listening and responding to the primary healthcare needs of our region, engaging with the community and supporting healthcare service providers," Ms Poxon said.
"It is only through a partnership with patients that we can really establish that feedback loop and identify what's working and what needs improvement."
The 'trip adviser' approach to health care
Professor Greco says the website in the UK has an interesting history, with the concept orginating as a kind of 'trip advisor' [the online consumer travel feedback site] for health services.
"The founder of Patient Opinion is a GP called Paul Hodgkins who, seven years ago, was on a social enterprise course with nine other people, one of whom happened to be the person who invented the trip advisor website. They had to do a project and Patient Opinion was the product of that project.
"The other director of Patient Opinion in the UK is a hospital doctor and what I find interesting is that they were both doctors and they both saw the need for patients to have a forum that could shape healthcare service improvement in a constructive way. They saw great potential in the partnership between care providers and consumers. They understood the benefit of service redesign and the voice of the patient and they wanted to bring those together."
Professor Greco said social media was forging a new type of partnership between consumers and their healthcare providers.
"What is important here is the response of the healthcare provider – that response has the power to be more therapeutic than a face to face consultation but it can also work the other way.
"Some healthcare providers give a very formulaic response: 'Thank you for your feedback…you should speak to the complaints commission about this.' And that's not very helpful to the patient.
"Other responses are fantastic. How well a health care provider organisation responds to its patients is an indicator of how patient-centric their culture is. Those who have a strong patient-centric culture will do very well in this environment while those less open to patient involvement will find the journey more difficult," Professor Greco said.
Feedback on the aged care system
Professor Greco says while the platform is focusing on direct healthcare providers right now, the website can "definitely be extended to include aged care and community care providers."
"I can't see any reason why we can't integrate these services and quite quickly if there was early interest. Patient Opinion in the UK is developing a separate website specifically for providing feedback about social care and care homes. I will be making sure it happens here."
ends
More information: