In this story:
Southern Plus opens health and wellness centre
Bolton Clarke unveils dementia wing
Bethanie refurbishes five sites
Land secured for new indigenous facility
Southern Plus opens health and wellness centre
Southern Plus, part of Western Australian aged and home care provider Southern Cross Care WA has unveiled its wellness centre in East Fremantle, which is co-located with its recently opened residential aged care facility.
The Southern Plus Health and Wellness Centre aims to help residents to keep active and improve their independence.
The centre's facilities include a purpose-designed exercise clinic, modern gym equipment, outdoor exercise area and hydrotherapy pool. It also uses technology to capture resident's health information.
Assistant minister to the Prime Minister Steve Irons attended the ceremony to officially open the centre.
Bolton Clarke unveils dementia wing
Bolton Clarke has officially opened its new dementia wing at its Galleon Gardens facility in Queensland.
The Melaleuca Wing incorporates best-practice dementia design principles, including an interactive digital wallpaper to support active engagement for residents living with dementia.
Activities residents can participate in include popping bubbles, making swans dive and cockatoos fly and creating snow angels.
A men's shed, retro caravan, open kitchen and an outdoor area with swings are among other facilities at the new dementia unit.
Bethanie refurbishes five sites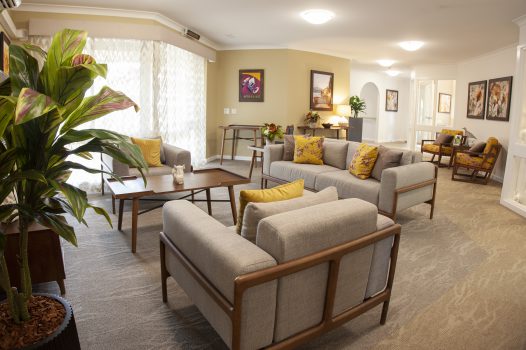 West Australia aged care provider Bethanie has committed $5 million towards the refurbishment of its Peel, Elanora, Geneff, Illawong and Joondanna residential aged care facilities.
The upgrades included new furniture, colour schemes and appliances along with new cabinetry, air-conditioning units, and automatic entrance doors and renovations to the commercial kitchens.
Bethanie CEO Chris How said the refurbishments aimed to enhance the quality and the amenities of accommodation for residents.
"These refurbishments have enhanced our resident's homes and created an inviting living environment for them to enjoy spending times with friends and loved ones," Mr How said.
Land secured for new indigenous facility
The government will provide $549,000 to secure land for the construction of a new indigenous aged care facility in Nhulunbuy in the Northern Territory.
The development is supported by the National Aboriginal and Torres Strait Islander Flexible Aged Care program, which will ensure the building and its facilities are culturally appropriate for indigenous residents.
It aims to cater for the growing ageing indigenous population and will also support local employment during construction and operation of the facility.
Families and community members involved have worked with the project team to select the most appropriate location for the facility.
Have we missed an expansion or opening? Send us the details and an image to [email protected]