Mitch Fifield may have moved on from aged care but he has not escaped the sector completely as one peak vows to meet with the minister in his new role to lobby for ICT support on a platform of productivity.
With Sunday's cabinet reshuffle, Senator Fifield was named Minister for Communications, Minister for Arts and Minister Assisting the Prime Minister for Digital Government two years and three days after becoming Assistant Minister for Social Services and the minister responsible for aged care.
The editor in chief of online technology publication iTWire, Stan Beer, referred to Mr Fifield as "a relatively unknown Victorian Senator" when announcing his promotion to the communications portfolio, which was previously held by Prime Minister Malcolm Turnbull.
While apparently unknown in the IT world, Leading Age Services CEO Patrick Reid said Minister Fifield's new appointment was a boon for aged care because Mr Fifield understood the sector's ICT shortcomings and the potential positive impacts improving the situation could bring.
"Given his exposure to the [aged care] portfolio he understands that IT can help us with a lot of the productivity benefits. Prime Minster Turnbull has spoken at length about the need to increase efficiency and productivity that will also improve the economics of the nation," Mr Reid told Technology Review.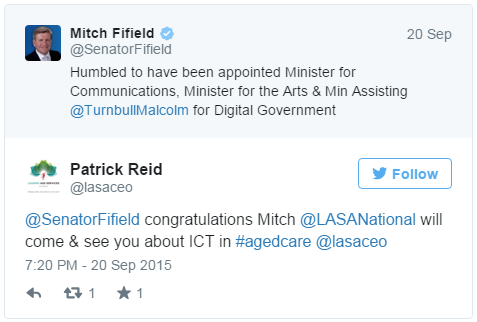 Aged care productivity is quite good considering the lack of widespread ICT utilisation but it is more effective with top-end operators that have systems in place to operate more efficiently than the remainder of the sector, he said.
This was something that Minister Fifield, as the former aged care minister, would have an appreciation for, Mr Reid said.
While noting that aged care still hadn't received the incentives and assistance to computerise and integrate systems that other health-related industries had, the sector was fortunate that a majority of the large care planning software vendors were compliant with the national eHealth record system.
"Next, we need to broaden the base, get more people utilising that software but also to have it better integrated. We are not seeing a great amount of integration across our operational back-end systems and procurement systems. That's a productivity gain we can see and certainly we have taken that message to Malcolm Turnbull previously," Mr Reid said.
Other ICT priorities to improve productivity include mobility for care staff and continuity of care for clients, much of which was underpinned by the national eHealth record scheme, said Mr Reid.
Health Minister to support aged care in opt-out trials
The most promising policy shift recently is the proposal to change to an opt-out eHealth records system because it removed the need to register every client, a process hindered by the high number of clients with dementia, he said.
The move to an opt-out system is one step closer after the Federal Government introduced legislation to Parliament last Thursday to allow the opt-out trials, which are set to begin in 2016 in two to five locations.
Mr Reid said Minister for Health Sussan Ley, who retained her position in the reshuffle, had accepted the importance of including and supporting aged care providers within trial sites and guaranteed it would happen.
"We have an undertaking from Minister Ley and I reconfirmed that last week with her and her office around aged care being one of the core aspects of [the trials]," Mr Reid said.
Elsewhere, Mr Reid said he wanted to meet with the new Minister for Human Services, Stuart Robert, to stress the importance of government working with industry to ensure the success of new and refreshed online payment systems.
The new home care system, which was tested by a cohort of providers, still had some small glitches but the collaborative approach meant providers could offer feedback and the department could apply fixes more rapidly, he said.
"That will be the message; include us and you will get the best results. If you don't include us there is going to be heartache all around."
Sign up to Technology Review's weekly e-newsletter for news and analysis, as well as coverage of the latest products, resources and events. You can also follow Technology Review on Twitter. Send your company news, tip-offs and news on tech resources, products and events to [email protected].