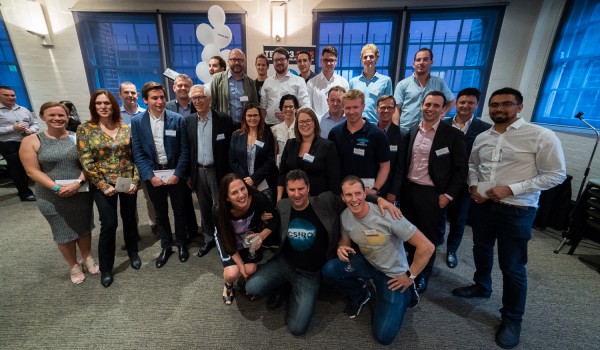 Radiotherapy treatments that aim to improve access and accuracy, and smartphone-based artificial intelligence software that narrates the physical world to the blind in real-time are among the innovations winning at this year's Tech23 event.
Over 400 delegates gathered to hear 23 innovators pitch their young business ventures to investors, advisors and research and development institutes at the seventh annual Tech23 event in Sydney last Tuesday.
Picking up more than $15,000 worth of prizes in cash and services across four awards, Aipoly was a big winner at the event for its artificial intelligence navigation app for the blind.
"Aipoly is a visual assistant that can describe the world for you through your smartphone," co-founder Alberto Rizzoli told the event.
The assistive technology, which will be provided to blind people for free, could also be used for assisted navigation such as in the supermarket for blind and sighted people alike, he said.
Mr Rizzoli encouraged potential investors and delegates to watch a video on their website showing firsthand the impact this innovation would have for blind people.
Low-cost radiation treatment
Elsewhere, Sydney-based medtech startup Nano-X picked up several prizes including the Tech 23 Innovation Excellence Award and the $15,000 CSIRO Breakthrough Innovation Award for its affordable radiotherapy machines that shifted system complexity from hardware to software.
The innovation aimed to address poor access to life-saving radiation therapy worldwide, including for rural Australian cancer patients who were less likely to survive than their city-dwelling counterparts, Nano-X managing director Dr Ilana Feain told delegates.
She said Nano-X was a paradigm shift that would deliver world-class cancer treatment at a fraction of the cost and with more accuracy than existing equipment.
Current state-of-the-art radiation therapy systems were designed to rotate 3,000 kilograms of equipment around a patient lying on table, making the complex engineering design accurate for advanced radiation therapy but incredibly expensive, she said.
"Why would you rotate 3,000 kilograms around a patient when you can achieve the same outcome by just rotating the patients? Nano-X simplifies radiation therapy by moving the complexity of the system from hardware to software. We do this by removing most of the moving parts and automating most of the rest," Dr Feain said.
She said they were seeking funding to move from research to the development phase and that the final product was expected to reach market in five to six years.
Other winners
The developers of the two other medical technologies showcased – Breath Well and Pathobin – were also successful in winning awards to support the development of their products and organisations.
Breathe Well is a monitoring device using optical and infrared sensors that analysed breathing function and provided guidance instructions to patients undergoing movement-sensitive medical procedures, such as lung, breast and liver cancer radiations therapies.
Patients undergoing radiation therapies needed to keep still for 30 minutes during each procedure for 30 subsequent procedures, said Daniel Zafir, managing director of Breathe Well developers Respiratory Innovations.
"That is fine if you have a bone cancer in your leg and you need to keep still, but if you are a lung cancer patient or a breast cancer patient the only way you can keep still is if you hold your breath," Mr Zafir said.
Very ill patients could often only hold their breath for 10 to 15 seconds and had to be guided back into the correct position after each breath, which was commonly done verbally by clinicians residing in another room, he said.
Following two years of initial trials in 10 hospitals, Mr Zafir said a prototype of the device that automated the monitoring and guidance procedure was almost ready and they were now seeking investment and clinical partners to undertake clinical trials.
Pathobin was a tool designed by and for pathologists to digitise surgical specimens and microscope slides via a low-cost high-quality capture process that enabled advanced diagnosis and image analysis.
Supporting 'game-changing companies'
Tech23 founder Rachel Slattery said the event helped to increase the informal networks of these young companies by bringing together a high-calibre audience who could help them build their business for global impact through connections, advice and prizes.
"The sponsors, industry leaders, prize givers, Tech23 alumni and the audience are all so supportive of these young game-changing companies and go out of their way to connect with them and help them kick their companies out of our backyard," Ms Slattery said.
A full list of winners is available here.
Sign up to Technology Review's weekly e-newsletter for news and analysis, as well as coverage of the latest products, resources and events. You can also follow Technology Review on Twitter. Send your company news, tip-offs and news on tech resources, products and events to [email protected].