In this story:
$3 million boost for Aussie dementia care watch developers Find-Me Technologies
UQ aged care software picked up abroad
home monitoring for retirement living collaboration
$3 million boost for Aussie dementia care watch developers
Australian venture capital firm OneVentures has committed $3 million from its Innovation and Growth Fund II to facilitate the expansion of Brisbane-based dementia technology company Find-Me Technologies.
Find-Me Technologies is the developer of the Find-Me Carers Watch, which supports the monitoring and care of individuals with dementia who may be prone to wandering or those at risk of falling.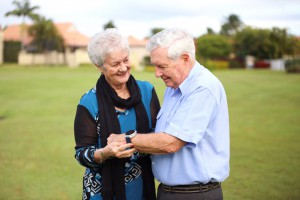 The waterproof Find-Me Carers Watch is an all-in-one personal response system, GPS tracker and fall detector that can help individuals to stay in their homes safely for longer and is designed to assist and look after the patient but with the carer in mind.
Tunstall Healthcare, which is a key distribution partner for Find-Me and provides support for users via its 24-hour call centre, launched the newest generation of the watch in the lead-up to Christmas.
The $100 million OneVentures Innovation and Growth Fund II is focused on investing in businesses that are generally approaching profitability but need capital to build scale and fuel growth, according to the firm.
The development and early commercialisation of the Carers Watch has been self-funded to date by Brisbane entrepreneurs Bruce Jeffers and David Ingerson, who said the genesis of the Carers Watch was to find a way to support his father who was one of those individuals with dementia that wandered regularly.
UQ aged care software picked up abroad
Aged care assessment software developed by University of Queensland has been licenced non-exclusively to global health care company Raisoft following negotiations with UQ's the commercialisation company UniQuest.
CeGA Online is a web-based geriatric assessment and clinical decision support system developed by researchers from UQ's Centre for Research in Geriatric Medicine (CRGM) in association with the Centre for Online Health.
The software is designed to give older patients improved continuity of care by recording and monitoring patient progress before, during and after a hospital stay.
CRGM director Professor Len Gray said his team was excited to see their software, which had been shown to work in a test population and was now widely used by Queensland Health, being used more widely around the world to improve health care for older people.
"Raisoft is already a leader in aged care software but they were keen to incorporate aspects of the CeGA Online system into a new product offering because it was developed for aged care clinicians by aged care clinicians," Professor Gray said.
Raisoft CEO Robert Astrom said the cross-continental deal would help their company to provide effective tools to improve the quality and planning of care for the elderly.
Raisoft received funding to visit UQ through CAESIE, which is a joint scheme between the Australian Government's Department of Industry, Innovation and Science and the European Commission to encourage science and technology collaboration between small to medium enterprises and researchers in Europe and Australia.
Home monitoring for retirement living collaboration
Retirement village operator Living Choice has partnered with connected care specialists Tunstall Healthcare to provide residents more choice at a reduced cost.
Tunstall has updated Living Choice emergency call systems to the Tunstall monitoring service, which since July 2015 has involved transitioning over 700 units across five villages to a solution customised for each site.
As a result, residents now have access to the National Home Doctors Service and the comprehensive 24-hour monitoring provided by Tunstall monitoring centres across Australia and New Zealand.
Living Choice operations manager Christine Osgood said they wanted to see where they could reduce costs for residents while not reducing services.
The transition process primarily consisted of transferring monitoring of the original system to Tunstall at the villages in Alloura Waters and Broadwater Court. While at Living Choice Kawana Island, Glenhaven and Twin Waters, Tunstall also replaced the existing medical alarms and provided training for the ground staff on how to re-program the system to help reduce installation costs across the villages, it reported.
Sign up to Technology Review's weekly e-newsletter for news and analysis, as well as coverage of the latest products, resources and events. You can also follow Technology Review on Twitter. Send your company news, tip-offs and news on tech resources, products and events to [email protected].