By Keryn Curtis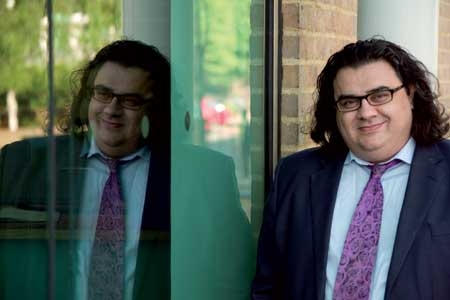 Above: Professor Sube Banerjee, Professor of Mental Health and Ageing, Kings College London
The current practice of using antidepressants for first-line treatment of depression in Alzheimer's disease is in question following the results of the largest ever randomised controlled trial involving the two most commonly prescribed antidepressants.
The study, published in the Lancet, found that the antidepressant medications, sertraline (Zoloft and generics) and mirtazapine (Avanza and generics) were no better than placebo at easing the symptoms of depression in Alzheimer's patients. On the other hand, the antidepressants were associated with more – and more severe- side effects than placebo.
These findings led the researchers to conclude: "Because of the absence of benefit compared with placebo and increased risk of adverse events, the present practice of use of these antidepressants, with usual care, for first-line treatment of depression in Alzheimer's disease should be reconsidered."
The findings of the study were made public at an oral presentation at the Alzheimer's Association International Conference in Paris on 18 July by the study leader, Professor Sube Banerjee from the Institute of Psychiatry at King's College London.
The study involved 326 Alzheimer's patients from old-age psychiatry services in nine clinical centres in England. Participants were eligible for the study if they had 'probable or possible' Alzheimer's disease, depression lasting four or more weeks, and a Cornell scale for depression in dementia (CSDD) score of eight or more. Patients were randomly assigned to receive 150 milligrams of sertraline, 45 milligrams of mirtazapine, or placebo, in addition to their usual care.
After 13 weeks and again at 39 weeks, depression symptoms had declined in all three groups but there were no measurable differences between the drug and placebo groups, or between the two drug groups.
Side effects, however, were considerably worse among those taking the drugs. Roughly one-quarter of the people in the placebo group experienced side effects such as nausea or drowsiness, compared with about 40 percent of the people taking antidepressants.
Above: Professor Henry Brodaty
Professor Henry Brodaty, Scientia Professor of Ageing and Mental Health at the University of New South Wales, published a comment on the study in the Lancet online and was also at the conference in Paris. He told AAA that the study represented an important landmark in research on dementia and depression.
"The negative results are disappointing but very significant, not least because of the size of the study. There have been a number of studies on use of antidepressants in people with Alzheimer's disease and reviews up to 2009 had suggested a weakly positive result.
"Then in 2010, a study published in US showed no benefit over placebo."
"But all these previous studies together, the entire world literature on the subject, only involved 330 people. The UK group mounted the largest study ever done and with 326 participants it literally doubled the numbers," said Professor Brodaty.
"And this study was very well conducted. It emulated clinical practice and used doses that psycho-geriatricians would be using. At the same time, the length of the study – with follow-ups at 13 weeks and 39 weeks – really gave them a long enough trial to be sure about the results."
In his comment in the Lancet, Professor Brodaty said the findings of the study "underscored the need for clinicians to think about creative alternatives to drug treatment for management of depression in people with dementia, and to use evidence-based techniques and partnerships with family carers."
"It certainly makes us question, is depression a different animal in dementia? Is it an artifact of the way we are measuring things? Does it mean we shouldn't use antidepressants? No, it doesn't mean that. We have all seen patients respond to an antidepressant," Professor Brodaty told AAA.
"On the other side, however, there is plenty of evidence for psychosocial approaches – exercise; pleasurable events schedules; carer-given problem solving therapy and various other therapies.
"It comes back to using some of those psychosocial interventions, sometimes together with an antidepressant. So there's still a place for antidepressants," he said.