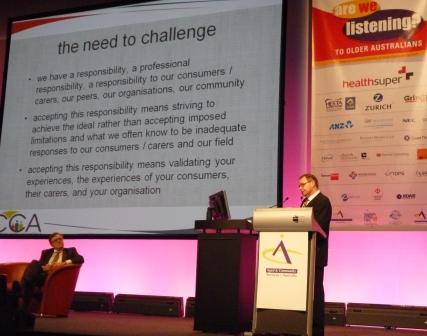 Above: CEO of the Community Council for Australia, David Crosbie, speaks at the ACSA National Conference.
By Yasmin Noone
It's time for not-for-profit aged care organisations to do away with traditional methods of political advocacy, based on convincing politicians of the economic value of their cause, and move to a modern sales technique built upon emotions and values.
This is the belief of the not-for-profit advocacy expert and CEO of the Community Council for Australia, David Crosbie, who spoke at the Aged and Community Services Australia National Conference yesterday.
During his presentation, Mr Crosbie explained that although the not-for-profit sector is one of the largest industry groups in Australia and one of the few sectors to do well in the midst of an economic downturn, it still holds little sway when it comes to politics.
This issue, as he sees it, is problematic because not-for-profit organisations should really play a strong role in policy agenda setting within a fair and just society.
The solution to convincing politicians and policy makers of the inherent role not-for-profit groups should have in policy debates, he said, is simple – use what you've got, focus on the emotions associated with your work and stress the values upon which your not-for-profit organisation is built, and you will be sure to convince the toughest of opponents that your opinion and cause is worthwhile.
"There is so much work to do to get not-for-profits on the agenda," Mr Crosbie said.
"Don't just sell [your message to Canberra] based on an economic perspective but from a values-based one. Then we'll have a real chance of engaging people".
"I believe in not-for-profits and what they do…[Many do make money] but that's not the end. The end is a series of values.
"…What [atmosphere] are you reading when you walk into a not for profit organisation? It is the interaction between people and the values that are being enacted. That's what's interesting to me."
Values are important, he added, "not just to me but they are fundamental to the way we make decisions and the things we buy."
Mr Crosbie then showed the audience three different television commercials for a range of products: beer, McDonalds and cancer care/funding.
The one thing all three very successful advertisements had in common, he explained, was the fact they portrayed more about the desired values the advertisers wanted associated with the product/cause than the product/cause itself.
"They are not called happy meals for nothing," he said, referring to the family values promoted in the McDonalds advertisement.
"In my experience, it's actually values that inform decision-making, not evidence."
Not-for-profit aged care advocates therefore need to be advocates for their cause and promote it, to funders and politicians alike, using a value-based argument.
"We need to be advocates for other people." And, we need to "be an advocate for ACSA".
"But the most important thing you can do is to be an advocate for what you do".
CEO of ACSA, Patrick McClure AO, addressed the audience after Mr Crosbie, on the final day of the conference and supported Mr Crosbie's statements.
"We need to look to our values to see what we can do, as providers, to develop efficiencies in our organisation.
If the third sector stands strong on the values it promotes, then it can also remain a "beacon" of hope for the other sectors to follow".
"It's not a 'holier than thou' attitude but it's just about good behaviour and good business.
"…That's what you are- a sign of hope within the Australian community."