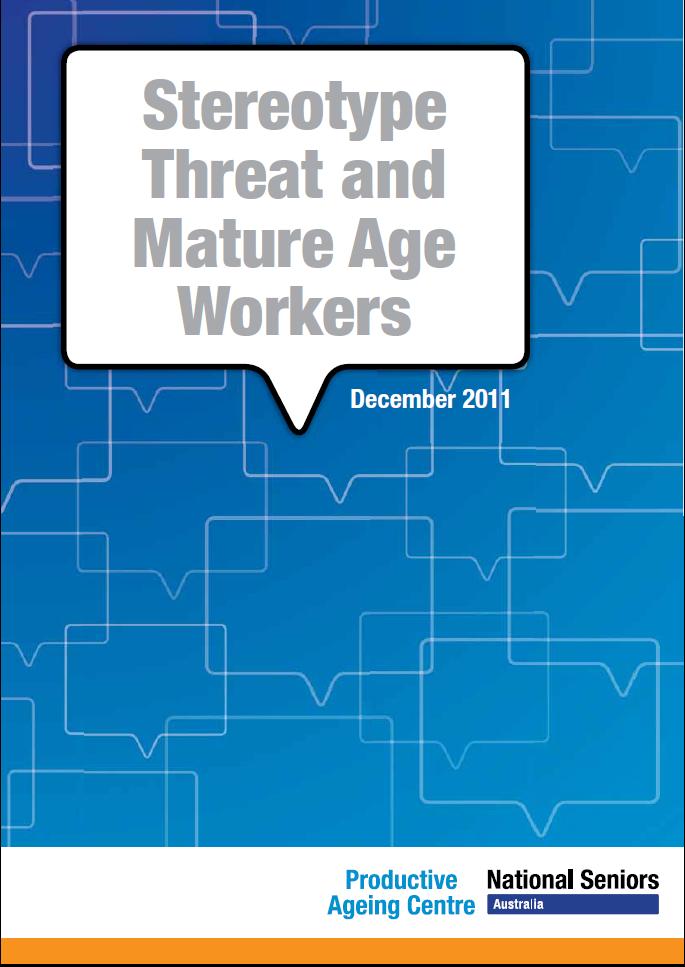 Above: The cover of the research report, Stereotype threat and mature age workers.
By Stephen Easton
Many older workers get the inkling they are just not being taken seriously any more – or are concerned they won't be – and it's working against government measures to encourage older people to keep working longer.
Research commissioned by the National Seniors Productive Ageing Centre suggests that most older workers experience moderate levels of 'stereotype threat' – the fear of being reduced to a stereotype and having one's individual skills and experience ignored.
All participants in the study, conducted by Courtney von Hippel, Julie Henry and Elise Kalokerinos from the University of Queensland, reported some level of stereotype threat, through their level of agreement or disagreement with statements like 'Some of my colleagues feel that I have less to contribute because of my age' or 'My age does not affect people's perception of my abilities at work', with the average score being 3.3 out of 7.
They also answered questions about life satisfaction, work mental health problems, job satisfaction, emotional commitment to the organisation, job involvement and intentions to either retire or quit.
Peter Matwijiw, National Seniors' general manager of policy and research, said that while the new research project touched on overt age discrimination – the topic of a previous National Seniors research report – it was more about the psychological effects of the perception that it would happen, or was happening already.
"A lot of stereotypes about older people tend to be negative, like that older people are not good at learning to use technology, or they are prone to ill health," Mr Matwijiw said.
"There's been a lot of work to debunk that. There's a lot of documentation and research about why these are incorrect, or myths, but people still harbour them."
The purpose of the study, he said, was to understand how psychological factors were affecting older workers in terms of job satisfaction, productivity and decision to stop working.
"Because of this ageing population and the skills shortage, there's a lot more emphasis now being put on retaining older workers in their jobs for longer or attracting older workers back to work," he said.
The prevalence of stereotype threat was counteracting these recent government initiatives, he said, like the creation of the Age Discrimination Commissioner and the abolition of the age limit for the superannuation guarantee.
"The good news is the majority are only moderately affected," Mr Matwijiw added. "However 14 per cent – still a sizeable number – felt they were highly affected."
The research found two main effects of stereotype threat on those experiencing the phenomenon.
"The first effect is … you are more likely to be more negative in the attitudes you take to work each day, to be more disengaged, to feel left out and so on. That flows on to other workers [of all ages].
"The second is … that it is likely to add to any intention to stop working – to quit or retire earlier."
When that happens, he said, "a fair bit of skill and talent walks out the door, and it's expensive to replace".
"It is clear from what people have told us through this study, that there are firms out there where the anti-discrimination policies are not very well known or articulated.
"The message that comes through is that the organisation needs to send out more positive signals about how they value all their workers. They need to reinforce those policies and enforce them.
"As long as you feel that you and your contribution are valued, you'll be more productive, and that's good for everyone."