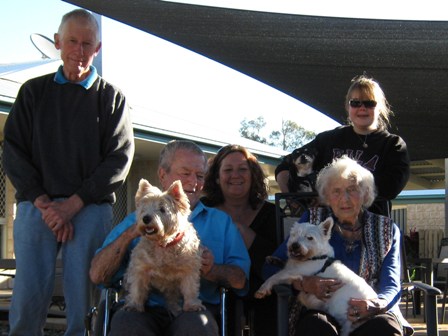 Two Caloundra Pets For Life project participants (front) and their three dogs plus two volunteers and a project officer. The program successfully gained funding in last year's aged care improvement and healthy ageing program, which is again open for applications. 
Programs that support older people with diverse needs and translate research into best practice are among reform measures targeted in the latest round of healthy ageing grants.
And doing your research and having evidence that shows your program will work is critical to the application process, says a winner from the previous round.
Applications are now open for the second round of Australian Government's Aged Care Service Improvement and Healthy Ageing Grants Fund (ACSIHAG), which has been widened to include parts of the Living Longer, Living Better reforms.
Minister for Ageing Mark Butler said ACSIHAG is intended to be broad in scope and flexible enough to support a wide variety of activities that deliver high quality aged care and promote healthy ageing.
"We are looking for applications from a wide range of organisations, including community groups and national peak bodies to help us support service improvement and improve the lives of older people," Mr Butler said in a statement.
Projects that focus on implementing aged care reform measures are particularly being sought this round.
For example, activities supporting older people with diverse needs, such as people from culturally and linguistically diverse backgrounds and lesbian, gay, bisexual, transgender and intersex people.
Another area is programs that focus on translating research into best practice, such as supporting medical professionals and organisations in the quality use of medicines in aged care residents.
This round also aims to assist with the continuation of currently funded projects, such as clinical intervention programs under the Dementia Behaviour Management Advisory Services (DBMAS) program.
Getting a grant
Applications for the first round of the ACSIHAG fund occurred this time last year, with successful applicants notified in April 2012.
Caloundra Community Centre secured funding in the 2011 round for their Pets for Life Project, which assists elderly people to keep their pet.
The project is aimed at people in the community who are aged over 60, but most likely in their late 70s and 80s, who are at the point of having to surrender their animal.
Pets For Life help by partnering the elderly person with a volunteer who can assist the owner with tasks such as dog walking.
Caloundra Community Centre manager Carolyn Nolan said research performed over three years plus running the project on a limited basis for 12 months prior to applying was integral in the application process.
"If you have done the research and have the evidence then you can demonstrate that this is something you believe will work," Ms Nolan said.
"The evidence is people saying 'we like this' or 'we value this'."
The project has funding for three years from July 2012 and is only able to continue because of it, Ms Nolan said.
The project currently has 21 volunteers assisting 14 elderly participants in the community. The funding has meant the project has expanded from Caloundra to Noosa.
"We're finding by assisting with their animal they've been able to stay a lot longer in their home," Ms Nolan said.
The community centre project is working with a retirement village, which will now allow dogs, Ms Nolan said.
The result means pet owners can hang onto their pets after they move in and volunteers can assist them at the site.
The Pets For Life project also works with a local Sunshine Coast animal refuge to look at placing older pets with people whose pets have died.
However, Ms Nolan said there is much more demand for project for people not having to surrender their animals.
The project has a number of other partners including Seasons, Blue Care, Sunshine Coast Council and Sunshine Coast University, which is undertaking research around the benefits of pets to an older person's physical and mental health and also the benefits to Pets For Life volunteers.
Collaborative work provides a lot of resources of shared wisdom and knowledge, Ms Nolan said.
"A lot people who work in aged care can provide a referral point and practical knowledge. And the best thing about partnerships and reference groups is they keep you on your toes," Ms Nolan said.
Applications for the latest round of funding close December 21. See DOHA's Aged Care Service Improvement and Healthy Ageing Grants Fund page for more information.