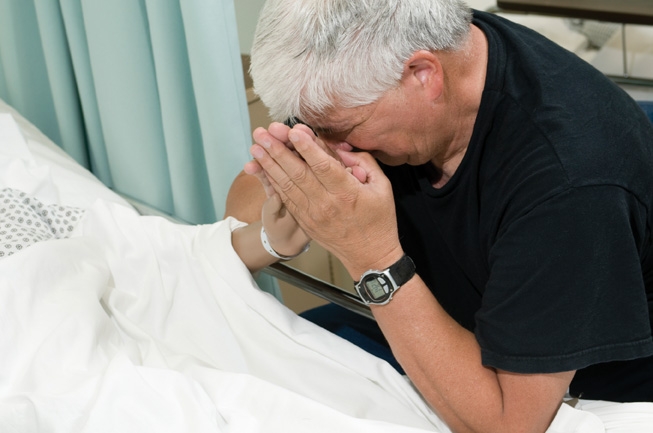 Families have reported distressing cases of poor treatment and psychological trauma experienced by loved ones in residential aged care.
By Linda Belardi.
Aged care providers and peak bodies have condemned cases of abuse and neglect in residential aged care facilities following a damning investigation by the ABC's Lateline on Monday night.
The report by Walkley award-winning journalist Margot O'Neill detailed serious allegations of poor treatment, malnutrition and even bullying and intimidation tactics from providers including the threat of defamation when families spoke out.
The program broadcast distressing images of untreated wounds and injuries and aired the personal stories of three families from Victoria and NSW who described traumatic experiences with residential aged care. Their loved ones were reportedly verbally abused, roughly treated and left in pain with undiagnosed or untreated conditions.
The report pointed to longstanding and familiar problems in aged care – overworked and understaffed facilities, inadequate training and insufficient access to specialist services and proper palliative care.
The story has dominated social media and TV and radio broadcasts over the past 24 hours and has even attracted a call for a Royal Commission inquiry into the treatment of older people in residential aged care.
A facebook page 'Nursing Homes in Australia – Time for Change' has also been set up to campaign government for action in light of the media investigation.
Charles Sturt University's Dr Maree Bernoth, who appeared on the program, said the accreditation and standards system was not working and stories of inappropriate care were becoming more worrying in recent years.
She said that the issue of cattle exports received more public attention and outrage than stories of malnourished and dehydrated residents dying in aged care.
Earlier this year Dr Bernoth published a study, 'Two dead frankfurts and a blob of sauce', describing the nutritional neglect in residential aged care. In May, a study by Jane Kellet from the University of Canberra of residential aged care facilities in the ACT identified that one in five residents were moderately or severely malnourished.
Lateline said it has spoken to at least 16 other people with similar stories to those featured in the program and it has received hundreds more emails and phone calls.
Rodney Lewis, a lawyer specialising in elder law told the ABC that it was time for a Royal Commission to investigate the experiences of older Australians in residential aged care facilities across Australia.
He also urged consumers to use consumer claims tribunals as a form of redress for unsatisfactory quality care.
ACSA CEO Adjunct Professor John Kelly expressed his deep concern and apologies to the residents and families involved.
He stressed the need for a substantial injection of funding to deliver high quality care and urged the government to move quickly to introduce its Living Longer, Living Better reforms, cutting the 10-year timeframe by half.
"We need to see appropriate changes over the 3-5 year period rather than the 10 year- period," Mr Kelly told ABC News 24.
He also said Australians were faced with a tough discussion about how society would pay for the rising cost of care in the future.
LASA CEO Patrick Reid said the program had revealed what industry had known for some time, that there is a critical workforce shortage, recruitment and retention is difficult and government funding does not match care needs.
He said the government's focus on regulatory compliance rather than quality clinical care had to change.
Catholic Health Australia CEO, Martin Laverty said all reports of unacceptable care should be investigated thoroughly and the Aged Care Complaints Scheme must be able to sanction providers who fail to deliver acceptable levels of care.
He said the limited choice of aged care places across Australia meant older Australians could not "vote with their feet" and change providers.
He also called on all political parties to commit to improving access for palliative care including implementing the recommendations of the 2012 Senate inquiry into palliative care.
COTA Executive Ian Yates said that while most aged care providers deliver a high level of quality care to residents, there were still unacceptable cases of neglect, malnutrition and abuse.
He called for a zero tolerance approach to any breaches in care and for stronger penalties to be applied to those services that fail to meet their duty of care obligations.
He also added his voice to calls for a strengthened independent complaints system, which has full power to investigate allegations of neglect or maltreatment in aged care.
Mr Yates said the recently passed LLLB reforms would initiate some important changes but the sector needed to move to a funding system where consumers hold control of the funds so they could move to a different provider if they were not being treated well.
Consultant Gerontologist Drew Dwyer said that without a solution to the remuneration and working conditions of care workers and the viability of service providers, concerns would remain.
In her first appearance on Lateline as Minister for Ageing, Jacinta Collins said she was very concerned by the reports and acknowledged that workforce and service shortages needed to be corrected.
"We need to grow the system, we need to grow the quality, we need to improve the workforce and that is the plan that went through the Senate a couple of weeks ago."
Margot O'Neill said Lateline investigations are continuing and further programs will be aired in coming months.
How the 'Twittersphere' responded:
@SimonAJohnson Thanks #lateline for this story on Aged Care. Government needs to seriously revisit Aged Care & Hospitals. What r u doing Jacinta Collins?
@senthorun We must urgently address the lack of resourcing and training in some of our aged care centres.
@Vikkik88 …Of course you need minimum staffing ratios 4 frail/complex care residents in care. A market will minimise care for $ #LateLine
‏@NurseNelleB elder abuse also happens in community but due to no mandatory reporting in hosp & community it goes unnoticed