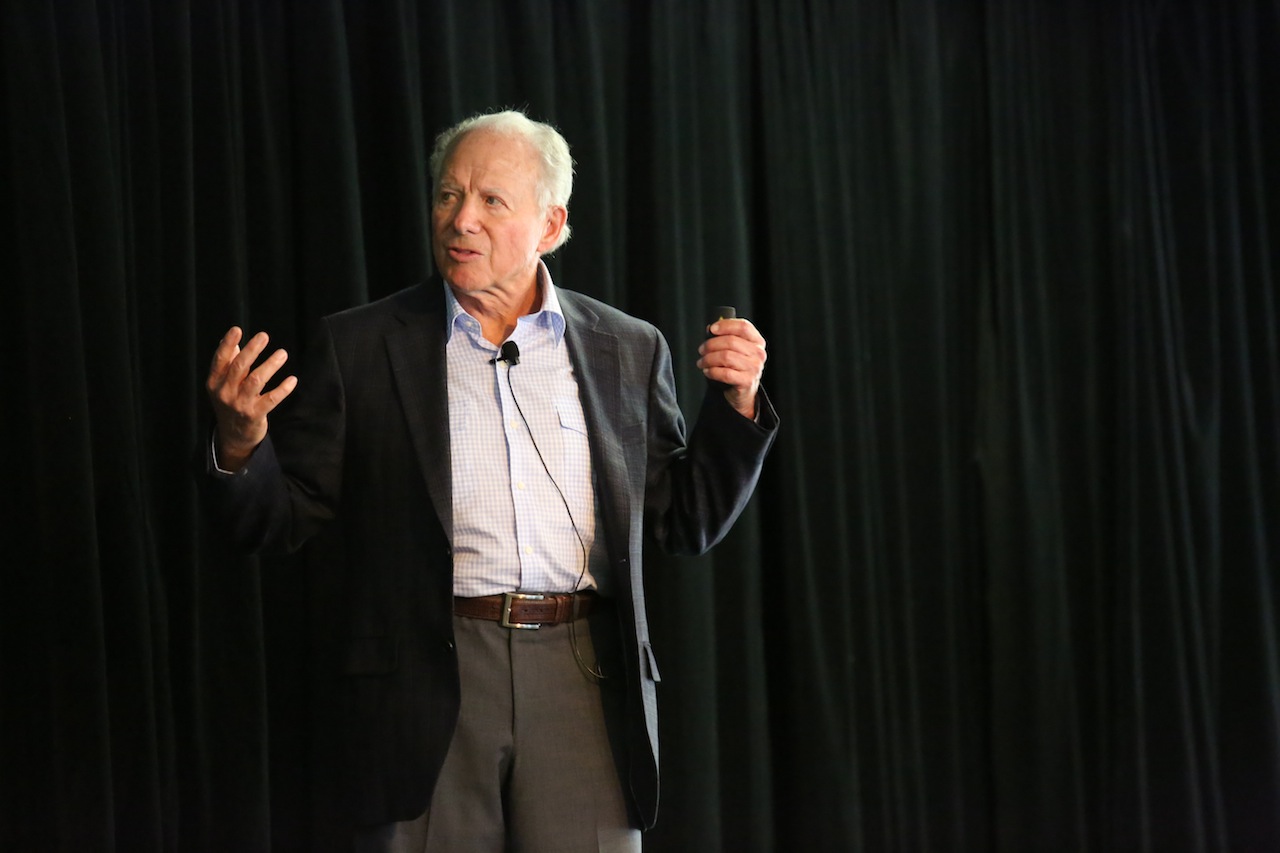 Dr Stuart Brown, seen here presenting at the Play Up Convention in Sydney last week, says play at all ages is integral to good health. Image courtesy of Nicola Ward for Arts Health Institute
Play and joyfulness are just as important as nutrition, sleep and exercise to a person's health and preventing physical and cognitive decline as they age, according to a leading international expert in the benefits of play.
Dr Stuart Brown, founder of the US National Institute for Play, was in Australia last week to speak at the Arts Health Institute's (AHI) annual Play Up Convention, which was held on Thursday and Friday at Sydney's Luna Park.
The AHI aims to integrate the arts into Australian health and aged care communities through research, such as the SMILE study, education, and programs including the Play Up Program, which uses humour therapy by professional performers for people living in residential aged care.
Speaking to AAA on Friday, Dr Brown said play was an important element for people receiving residential or community aged care, but was also critical in preventing older people needing care.
If a person aged 50 or 60 and showing some signs of either health deterioration or personal predilection to one of the dementias began prioritising play that worked for them personally, the evidence is building that it can be useful in preventing further deterioration, he said.
And getting that person to recognise that it is a significant thing to pay attention to in terms of health, as necessary as nutrition or sleep, is important, he said. Play really needs the personal touch, Dr Brown said, and could be something from a person's background that fits culture, age, gender and perhaps reminds them of things they did joyfully as children.
"What play does is assure mood. You're not working out. You're not grinding yourself into the dirt in order to live. There's joyfulness about it," Dr Brown said.
Rather than escapism or hedonism, it is about having a sense of optimism and drive towards something that is fulfilling and meaningful in your life, he said.
"For a little child, play is meaningful and for an adult, play can be meaningful," he said. "I'm talking about something that feeds the soul. That's the kind of the starting point that may lessen the prevalence and the early onset of deterioration."
Dr Brown said while there were some people with a strong predilection that no matter what they did, "things are going to go south," for most people there were preventative lifestyle measures they could take.
"Access to play makes a huge difference and there's been a lot of talk about nutrition and exercise but not much talk about joy."
It is never too late to play
Similarly for someone in a residential care setting, whether for physical of degenerative neurological conditions, Dr Brown said everyone still has a spinal cord, a brain stem and limbic system available for activation through play signaling, music and rhythm.
Dr Brown said seeing the Arts Health Institute performers and others working in aged care settings reach into that limbic system and activate it by personal contact and engagement was wonderful.
He suggested aged care staff could get involved if comfortable and therefore needed knowledge about the importance of playfulness.
"Even someone who may be lying there appearing dormant can still be reached," he said. Some may be reached by hand activities, others with music or humour, but the play has to be personalised in order to bring that quality of joy, Dr Brown said.
"It's hard but this is where the intake process and the family history and the contact with the family is really important."
On this personalised approach being put into practice, Dr Brown said what he was seeing in Australia was "as pioneering an effort as I have seen anywhere."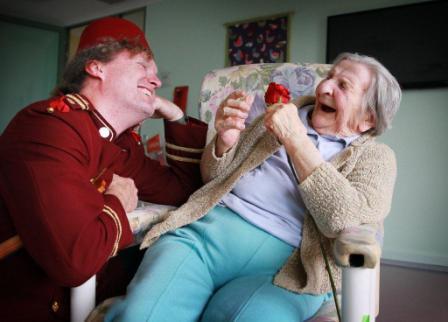 Arts Health Institute Play Up performer Andy McDonell with Whiddon Group Easton Park resident Janeena. Image courtesy of Nick Gibson, Daily Telegraph.
Innovative practice
The Whiddon Group Easton Park in Glenfield in Sydney's south-west is one such place implementing play well.
The facility, which was a participant in the SMILE study, was named the winner of the Arts Health Institute's inaugural Linden Award for Innovation at the convention on Friday.
General manager Stacy Wake said the innovation came from implementing the program with the clients' engagement and inclusion.
"The clients had a lot of input and gave their input to the Arts Health Institute to design the program," Ms Wake said.
The Play Up program at the facility has been provided to each area of the home to reach all 441 clients. It includes Sing out Loud Together, a multi-generational choir involving children from the local primary school which made its public debut at the convention on Friday, and performance comedy.
"The performers come in and perform skits with the client engaged, so the client becomes part of the performance," she said.
Ms Wake agrees with Dr Stuart Brown that the need for joy is a part of being human.
"It is obvious to me to live a decent life you need to have joy in your life.
"You don't just come to an aged care facility to die. I want people to come and learn something and enjoy life," she said.
Play Up has lifted the mood of the whole place in every aspect for clients and staff alike, Ms Wake said.
"These are seasoned performers. When you see what they do, they are really skilled people and it's just fantastic for the clients. It makes everyone happy," she said.