Alzheimer's Australia Vic has launched an online information and counselling service to provide round-the-clock support to people with dementia and their carers.
Visitors to the Online Dementia Support website can arrange free online counselling, learn about dementia, connect with others in the same situation and discover where and how to get help.
The resource was developed by the client services team in conjunction with carers and aims to enable easier access for people seeking information and support, acknowledging the time challenges people living with dementia and carers face juggling work, home, family, appointments and other commitments, according to Alzheimer's Australia Vic.
Key features of the online resource include: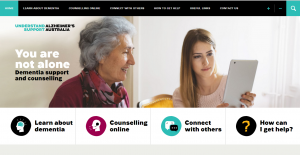 24-hour access to information and resources;
counselling via email or video conference;
a forum for participating in an online peer support community;
16 videos with experts and carers sharing their experiences to help others.
In the videos, experts and family carers help others to learn more about dementia, offer tips on more effective communication, discuss changes in behaviour and offer useful information on residential care.
Sign up to Technology Review's weekly e-newsletter for news and analysis, as well as coverage of the latest products, resources and events. You can also follow Technology Review on Twitter. Send your company news, tip-offs and news on tech resources, products and events to negan@intermedia.com.au.