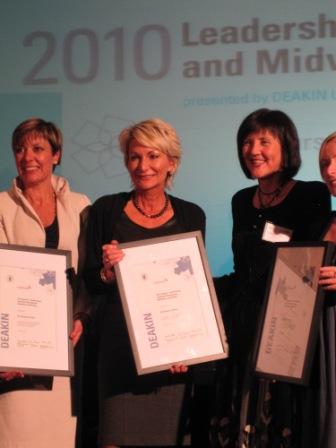 Megan Holmes, centre, with other winners.
An aged care nurse from rural Victoria has been recognised with an award for "Excellence in Nursing and Midwifery Leadership in a Rural Health Environment" as part of the 2010 Leadership in Nursing and Midwifery Awards presented by Deakin University and Health Super.
Registered nurse, Megan Holmes, is team leader of the EN-ABLE research project, a partnership between aged care provider, TLC Aged Care and La Trobe University's Australian Centre for Evidence Based Aged Care (ACEBAC).
The focus of the EN-ABLE project – in turn a joint initiative involving La Trobe University as well as Queensland University of Technology and University of Technology Sydney – was on researching and developing a 'toolkit' to help carers provide quality, personalised care for residents with dementia.
Ms Holmes said ACEBAC had enlisted six other facilities in Queensland, NSW and Victoria to contribute to the research project.
"ACEBAC approached TLC's head office, inviting TLC to involve one of their facilities for a six month research commitment. Our Homestead Lakes facility in Wallington near Geelong was selected and I was in charge of a small team of four carers," said Ms Holmes.
"We had several meetings with Dr Margaret Winbolt, the research fellow in charge of the project at ACEBAC, and developed a system for collecting qualitative and quantitative feedback on the care of 18 residents with dementia."
Ms Holmes said the families for the residents were keen to be involved in research that aimed to provide better, more personalised care for their family members.
The EN-ABLE project is the first time TLC Aged Care has been involved in academic research.
"It has been so exciting seeing staff get involved and contribute ideas and then see the improved outcomes and quality of care. The staff realise they can make changes and achieve results and it is really positive and rewarding."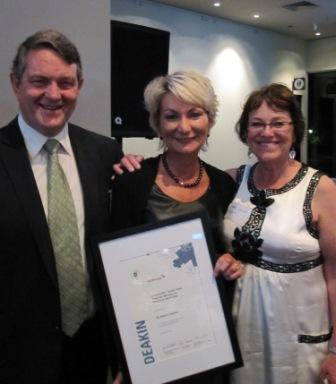 TLC Aged Care owners, Dr John Leaper, left and Ms Jenny Leaper, right with Megan Holmes, centre.
TLC Aged Care owners Dr John Leaper and Mrs Jenny Leaper were at the presentation evening to support and congratulate Megan.
"Winning this award is a fantastic achievement for Megan and her team but more than that, this achievement will benefit the entire aged care industry," said Dr Leaper.
"It is worth observing that all the other finalists were from large, government funded organisations; TLC was the only private company represented as a finalist and the only finalist specifically involving aged care," Dr Leaper said.
"I was so amazed," said Ms Holmes, "There were 120 award applications and 16 finalists and we were the only project based in aged care. We were up against lots of academics and PhDs and the winners were mostly big government healthcare organisations."
"One of the reasons it felt so great to receive the award is that I think it gave some of the other winners and finalists pause for thought about aged care. I think aged care is often overlooked by other parts of the healthcare sector. At a professional level, everyone was really pleased for us to have the recognition. It got some of them thinking that aged care does some pretty interesting things," said Ms Holmes.