Plan managers are helping more than a third of the almost 300,000 Australians receiving support under the the National Disability Insurance Scheme (NDIS) meet detailed criteria, claim funds and manage payments.
They also help the scheme's 20,000 registered care and service providers receive fast payments, which keeps the system operating as it should.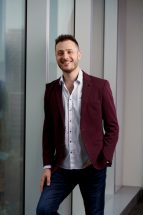 The plan management sector within the NDIS has grown 15 per cent between March 2017 and December 2018.
Joseph Mercorella, CEO of NDIS software startup Lumary, which launched two years ago and secured a $2 million capital raise in August, says the demand for plan management is a response to the huge level of specificity required for NDIS claims to be successful.
Mr Mercorella says Lumary's plan management tool can manage up to 150 participants. The Australian designed and built platform is designed to reduce the administrative burden on plan managers by facilitating real time claim validation, claiming via the NDIS portal and providing payments and remittances.
"Under the NDIS the service provisioned must be specified and allocated to a specific price and line item, and then married up to the plan provisioned to the participant to begin with," Mr Mercorella told Community Care Review.
"If the claim isn't managed according to defined rules and principles on the plan, it won't be successful and the service provider won't be paid.
"Plan managers understand the principals and guidelines that must be adhered to in order to manage the money in an effective way and the government understands that the money is being spent in an appropriate manner based on the plans and the provisions to the participant.
"Service providers can recoup their costs very quickly, which is essential for them to manage their business effectively and provide services."
Participants are also able to spend less time filling in forms to meet detailed criteria, claim funds and manage payments, which can be an ordeal for those on the NDIS, of whom around 60 per cent have an intellectual disability.
With a plan management tool, they can also check where their payments are up to.
With 34 per cent of NDIS participants using plan managers, according to the COAG Disability Reform Council Quarterly Report released in June, technology must keep up.
"We're giving plan managers a highly sophisticated tool that automates the entire process," Mr Mercorella says.
"Plan management systems that can create efficiencies within a business are going to allow small plan management business to really scale and larger ones to take on more participants while reducing administrative overheads."
Lumary PM is subscription based and cost is dependent on the number of participants, which allows it to cater for all sizes of business.
Efficient processes and good technology benefit the community as a whole, Mr Mercorella says.
"It's our job to improve the supply chain and ensure wellbeing organisations are servicing the community better, allowing participants to become as independent as possible."
Subscribe to Community Care Review