Aged care residents living with dementia at Baptistcare William Carey Court in Busselton in Western Australia have been gifted a therapy tool from the Lions Club of Vasse.
The Tovertafel – otherwise known as the magic table – is an innovative games console designed for use in dementia settings. It projects interactive animations onto a table allowing people with cognitive challenges to physically interact with the images and socially interact with one another.
But the technology doesn't come cheap – each console can cost as much as $18,500. The Vasse Lions club first heard of the magic table from their colleagues at the Margaret River Lions Club who had fundraised for a Tovertafel for the Baptistcare Mirrambeena residential care facility.
Vasse Lions club president Trish Robinson visited the site to observe the console in action. "As soon as I saw the residents using the Tovertafel I was brought to tears," said Ms Robinson. "My mother-in-law lived with dementia and I can only imagine how powerful the Tovertafel could have been as a therapy tool for her."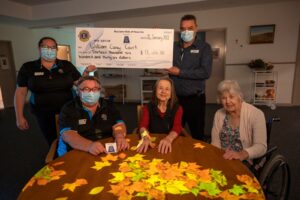 Fundraising began a year ago with the Vasse Lions organising raffles, movie nights and car boot sales. Baptistcare community engagement consultant Les Longfield said she was in awe of the fundraising effort. "We are honoured to have been chosen as a recipient of their generosity," said Ms Longfield.
Launched in 2015 by a Dutch medical technology company, the benefits of the Tovertafel are well documented. Studies have shown that the technology breaks through apathy, reduces sadness, stimulates the mind, promotes social inclusion, mobility and dexterity, and improves quality of life overall.
"The Tovertafel will deliver enormous benefits for our residents with dementia and will play a key role in keeping them active and connected," said Ms Longfield.
Main image: William Carey Court residents interact with the magic table
Comment on the story below. Follow Australian Ageing Agenda on Facebook, Twitter and LinkedIn, sign up to our twice-weekly newsletter and subscribe to AAA magazine for the complete aged care picture.