Dementia Australia has launched a resource to enhance care workers' knowledge of how body language can impact a person living with dementia.
The free body language module adds new content to the Ask Annie app which provides care workers with interactive, self-paced teaching components to refresh, strengthen and refine their skills.
Dementia Australia CEO Maree McCabe told Australian Ageing Agenda the importance of body language cannot be underestimated.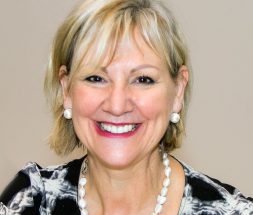 "It's important people's body language matches their verbal communication – if someone is speaking in a friendly tone of voice with a frown on their face, it can be confusing – particularly for a person living with dementia," said Ms McCabe.
Body language is physical behaviour which is used to communicate an individual's thoughts and intentions. It can be facial expressions, body posture, even the personal space you provide a person.
With many care workers wearing face coverings because of Covid, body language is especially important nowadays Ms Cabe told AAA. "With masks now common in home and residential care settings, it's become even more important as many people with dementia rely on facial cues and tone of voice."
Bobby Redman, chair of the Dementia Australia Advisory Committee, lives with dementia herself. She said body language is crucial to people living with dementia, especially as a person's language skills reduce.
"It is vital to remember that our senses are impacted by dementia – vision, hearing and touch all change, and we may experience things in a very different way," said Ms Redman. "Please help us to cope with these changes by using clear body language to supplement what you are saying – actions speak louder than words."
Available to download on Android and Apple devices, Ms McCabe urges all workers caring for people living with dementia to access the Ask Annie app for its body language module and other educational resources such as short videos and interactive quizzes.
"Dementia education leads to fewer high-risk incidents, lower rates of medication administration, and more positive staff attitudes and morale, which ultimately results in better care and quality of life for people living with dementia," said Ms McCabe.
Comment on the story below. Follow Australian Ageing Agenda on Facebook, Twitter and LinkedIn, sign up to our twice-weekly newsletter and subscribe to AAA magazine for the complete aged care picture.