A pilot program developed by HammondCare that introduces rescued greyhounds to residents living with dementia is to be expanded.
Under the Hounds Helping Humans program, nine teams of Greyhound Rescue handlers and hounds have been visiting residents at HammondCare's sites in Horsley, Wahroonga and Darlinghurst in New South Wales since June last year.
The initiative will now be expanded to reach all of HammondCare's NSW facilities, with potential for the scheme to reach sites in Victoria and South Australia at a later date.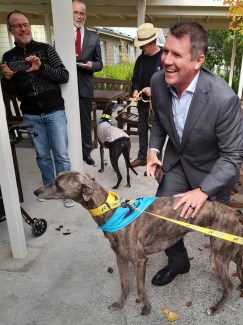 HammondCare CEO Mike Baird said the program aligns with the dementia care specialists' commitment to delivering person-centred care.
"This is one innovative way that we can achieve our ambition to set the global standard for relationship-based care for people with complex needs."
Greyhound Rescue president Nat Panzarino said feedback from the pilot has been all positive, with handlers reporting the benefits for residents.
"They have enjoyed watching the special connections between the residents and greyhounds grow each week they came to visit. There is a genuine excitement when the hounds arrive."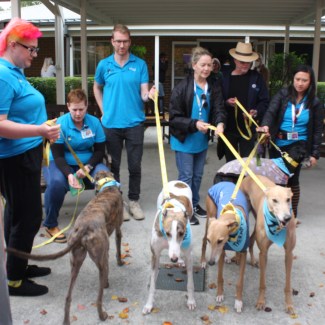 The handlers have enjoyed being involved in the program as well, added Ms Panzarino. "It's very fulfilling, and for many of the hounds it has quickly become their favourite activity."
Tight processes were applied to ensure participating residents and hounds were carefully chosen. As well, the greyhounds were specially trained to familiarise them with an aged care setting, including the equipment commonly found in homes, such as wheelchairs.
Greyhounds are especially suitable for people in aged care because of their calm and affectionate nature and their higher stature, which makes them accessible to people confined to beds or wheelchairs.
An internal review of the Hounds Helping Humans pilot found benefits of the scheme included strengthened relationships and elevated mood.
Challenges identified included time limitations of visits, hounds sometimes becoming over-stimulated, and the need for more handlers and hounds to support greater reach in homes.
Associate Professor Steve Macfarlane is head of clinical services at HammondCare's research facility the Dementia Centre. He said animal engagement has significant health benefits for people living with dementia – it decreases loneliness and depression, increases physical activity and improves socialisation.
But, said Professor Macfarlane, the best way to appraise the benefits of such schemes is to look at residents' faces. "What better way to evaluate the success of animal engagement than to see the reactions from the residents – they clearly enjoy the interaction immensely."
Main image: residents Ann Wilcox and Helen Ryan with hounds Brock and LB
Comment on the story below. Follow Australian Ageing Agenda on Facebook, Twitter and LinkedIn, sign up to our twice-weekly newsletter and subscribe to AAA magazine for the complete aged care picture.