A songwriting workshop operating in residential homes in Adelaide aims to strengthen the wellbeing and cultural identity of Italian migrants living with dementia.
Run by anthropologist and musician Dr Simone Marino and coordinated by Professor Loretta Baldassar from the SAGE ageing lab at University of Western Australia, the Music, Ageing and Dementia project fuses song composition and storytelling to stimulate the memories of aged care residents with various degrees of cognitive impairment.
"I try to collect their life history, their story, and try to involve them as much as possible to co-compose a song with them," Dr Marino told Australian Ageing Agenda. "My goal is to create a soundscape of the participant's relevant memories that enhance communication."
Dr Marino – a lecturer of Italian studies and sociology at the University of South Australia – hopes to provoke mental activity through the emotions that residents relive by engaging with music and stories that remind them of their past or home country.
"What I'm trying to leverage from my participants is a narrative," said Dr Marino. "I will gather data on what I believe is significant for them. Everything that is relevant for them: the best friends in the village of origin, the parents, senses, smells, memories, and of course the trip to Australia on the ship, the struggles, the achievements, children and family."
This gives the individual the opportunity to narrate their own story, he added. "It is restoring agency, regaining their agency through sharing their autobiographical stories."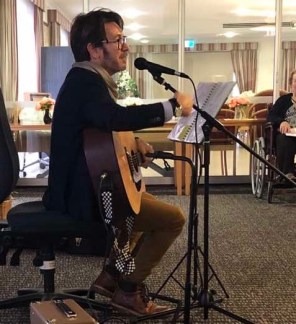 Once a personal narrative is established, Dr Marino composes "a soundtrack of their memories". These short songs are written in the participant's first language and are designed to create a luogo della memoria – a place of memory – which "facilitates social engagement and enhances cultural identity," he said.
Dr Marino – who emigrated to Australia from Rome 11 years ago – is uniquely placed to run the workshops: he speaks English and Italian and has knowledge of several regional Italian dialects spoken by migrants in Australia.
He is also an accomplished musician and takes an assortment of instruments to the aged care homes he visits including a guitar, a lyre, a piano accordion, and Italian bagpipes.
Dr Marino told AAA that his grandfather lived with dementia for 10 years. "I made a song for my grandfather, and we used to sing together. He was following all those milestones that I included in his song," he said. "This played a role in the rationale to propose something which could benefit migrants with dementia in Australia."
It's well-documented that music engages particular regions of the brain. The emotional and cognitive impact of music is also often well preserved in people living with dementia, which makes it an effective tool in the care and rehabilitation of many ageing-related neurological diseases.
The positive effect of the songwriting workshops on the aged care residents is clear to see, said Dr Marino. "Many of my participants have been able to show an improved way of communicating after the sessions I'm doing with them," he said. "They start looking like their old selves."
Comment on the story below. Follow Australian Ageing Agenda on Facebook, Twitter and LinkedIn, sign up to our twice-weekly newsletter and subscribe to AAA magazine for the complete aged care picture.