A Queensland-first study aims to improve the accuracy of young-onset dementia diagnoses.
Conducted by researchers from the Mater Hospital Brisbane and the University of Queensland, the study is exploring frontotemporal dementia. FTD is the result of damage to the neurons in the frontal and temporary lobes of the brain.
Symptoms include:
unusual behaviours
emotional problems
trouble communicating
balance problems
motor weakness.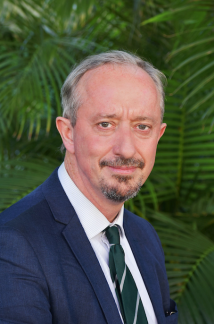 Leading the study is Professor Peter Nestor – Queensland's only cognitive neurologist. "One of the key goals of the research is to develop methods that improve the accuracy of diagnosis for people with suspected dementia," said Professor Nestor.
Unlike Alzheimer's disease, FTD is not so widely known. "It is, however, the most common cause of dementia in people under 60 years of age," said Professor Nestor. "The youngest patient I have seen with FTD was in their late 20s, however, this is extremely unusual. Most people present with FTD between the ages of 45 and 65 years."
More than 25,000 Australians are currently living with young-onset dementia, representing approximately 5 per cent of all dementia patients in the country.
Whereas Alzhiemer's affect an individual's memory, FTD typically doesn't prominently affect a person's recall. "Instead, FTD can significantly change their personality or language abilities," said Professor Nestor.
Ross Plumb was diagnosed with semantic dementia –a form of FTD – four years ago. People living with the condition commonly lose the ability to assign meaning to words, find the correct words, or name people and objects.
Mr Plumb is participating in Professor Nestor's study that involves researching the use of magnetic resonance imaging technology to improve the understanding and diagnosis of FTD.
"We currently have a second project running on FTD which is looking at the unfortunately high misdiagnosis rate of the behavioural variant of FTD," said Professor Nestor. "There are a significant minority of patients with FTD who have a genetic cause, so with continued research we can develop interventions to help prevent people with genetic mutations from developing symptoms."
Main image: Ross Plumb with partner Bobby Blake
Comment on the story below. Follow Australian Ageing Agenda on Facebook, Twitter and LinkedIn, sign up to our twice-weekly newsletter and subscribe to AAA magazine for the complete aged care picture.