A South Australian project that brought together seniors and primary school children has shown promise as a way of combating stigma and boosting the development of dementia-friendly communities.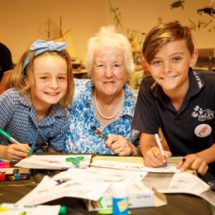 The results of the Forget Me Not study were presented at the AAG Conference in Melbourne in November.
The eight-week intergenerational program, involving 81 children aged between nine and eleven and 25 older people attending an Adelaide respite facility, was undertaken between February and April of this year with the involvement of ECH, Unley Primary School and the City of Unley.
Georgina Kamm, an honours student from the University of South Australia, said the program aimed to contribute towards a dementia friendly community in which people living with dementia felt comfortable to be out and about.
"By educating the younger generation we're giving them the tools they need to be able to interact respectfully with people living with dementia," she told delegates.
Engaging with older people
During the project, the children visited the ECH day program at Henley Beach for six one-hour sessions where they engaged in art, music, gardening and other recreational activities with the older people.
A control group remained at school where they did an education program.
Sixty-five children and eleven of the older people were surveyed after the study.
Kamm said preliminary results from the study showed an improvement in knowledge and attitude among both groups of children, while the older people also scored well in quality of life measures.
"These findings suggest that our program was successful in increasing children's dementia knowledge, and better yet, these changes may potentially be long-lasting," Kamm said.
The findings also demonstrated a reduction in stigmatised attitudes, she said.
However, the feedback also suggested that the noise of a large group of children was problematic for some of the older people during visits to the respite centre, leading researchers to suggest smaller groups may be more appropriate for future excursions.
Bridging the gap
"Forget Me Not bridged the gap between our youngest and oldest generations," Kamm said.
"The program was mutually beneficial for all participants. It increased knowledge and decreased stigma against older adults and dementia in the minds of our young South Australians."
The program is being financially evaluated for implementation at other schools.
Read more: Residents benefit from play with kids
Subscribe to Community Care Review