A first-of-its-kind resource educates staff as to why certain behaviours might be occurring among lesbian, gay, bisexual, transgender and intersex people living with dementia.
Launched by Dementia Support Australia and LGBTIQ+ Health Australia, the educational guide – LGBTI and Dementia – aims to highlight the unique challenges that dementia can present for lesbian, gay, bisexual, trans and gender-diverse individuals in aged care.
"People with dementia experience the symptoms and the challenges that come with it very differently," head of Dementia Support Australia Marie Alford told Australian Ageing Agenda. "But when you overlay issues of discrimination and marginalisation as experienced by the LGBTI community, there can be other challenges that need to be addressed."
The resource – the first of its kind to focus on why certain behaviours might be occurring among LGBTI people living with dementia – provides aged care staff and other health professionals with an understanding of the underlying reasons behind how and why older LGBTI people may feel and behave.
"People born in the 50s and 60s, their experience was very different from that today," said Ms Alford. "These people came out or lived their lives at a time when homosexuality was still seen as a criminal act."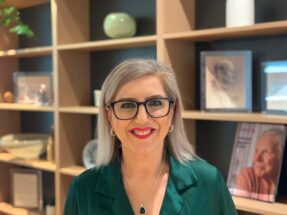 As Ms Alford explained to AAA, people with dementia can often reflect on their previous life experiences as the condition progresses. This may result in an LGBTI person reliving discrimination and mistreatment.
"[LGBTI people] may be afraid to share who they are. They may feel that the people supporting them won't understand them or may judge their unique experiences, so there's a risk of people who identify as LGBTI going back into the closet when they enter care," she said.
Unique triggers
Robert Hardy of LGBTIQ+ Health Australia told AAA that there are other unique triggers to consider. For someone who had lost a loved one during the horror years of AIDS, "the experience of being back in an institution or a clinical-type setting could bring back traumatic memories from the past," he said.
Faith-based aged care providers could also stir up past traumas, said Mr Hardy. "For some, symbols of religion may also be traumatic. Many older people experienced conversion therapy, practices that tried to change a person's sexual orientation or align their gender to the gender they were assigned at birth."
People can become estranged from family for being LGBTI. This makes living with dementia especially isolating. It's important, then, that the person has a connection to the LGBTI community, he said. This could be provided through a community visitor scheme. Someone to talk to with "a shared lived experience," said Mr Hardy. "Someone who understands their history, where they can talk about that in a positive way."
Staff conduct is also crucial – any prejudices must be kept in check. It's important aged care workers welcome same-sex partners or affirm a person's gender, said Mr Hardy. Aged care environments must be made "more accepting and more inclusive," he said.
The LGBTI and Dementia guide taps into the framework of the Aged Care Quality Standards, which stipulate that every Australian has the right to access inclusive and culturally safe aged care services that meet their individual needs and respects their backgrounds and life experiences.
For that to happen, said Ms Alford, "It's really important that we ensure that the next generation of care staff are really understanding of the impact of those lived experiences of people from diverse backgrounds."
Knowing the person is key to working with LGBTI people living with dementia, said Ms Alford. "We need to understand the complexities of their life history … of the discriminations that they have faced in the past and what that has meant to their experience today."
Mr Hardy echoed the statement: "Often the past is the key to understanding the behaviour in the present."
Comment on the story below. Follow Australian Ageing Agenda on Facebook, Twitter and LinkedIn, sign up to our twice-weekly newsletter and subscribe to AAA magazine for the complete aged care picture.