Almost half of all Australians think their families don't know what they want at the end of their life, while one third believe that even if their family was aware of their final wish-list, they'd ignore it, a new survey has found.
An independent online survey of 1,000 Australians, commissioned by Palliative Care Australia, has found that nearly two thirds of participants said they would turn to their family, first, to make decisions about their end-of-life care.
Around 53 per cent of those surveyed thought their final wishes might also be ignored by their health care professional, with eight per cent of those being 'very worried' that this might happen.
Palliative Care Australia CEO, Dr Yvonne Luxford, said that the research findings provide important considerations for Australians approaching the end of their life.
"The fact that such a high proportion of people indicated they were not confident their end-of-life wishes will be carried out shows why it is so important that we have mechanisms in place to support people to make decisions about their care, but also to share these decisions with the people who matter most," Dr Luxford said.
The aim of the survey was to gauge community views on dying and end-of-life care to mark National Palliative Care Week which runs until 26 May.
The survey also showed that almost 90 per cent of those surveyed did not have an advance care plan, with 78 per cent admitting they did not even know what an advance care plan was.
"The low levels of knowledge around advance care planning shows that our current system needs to be changed.
"We need to implement consistent national legislation around advance care planning to make it easier for everyone to understand and use, and for advance care plans to be included in eHealth records so information is shared with the key decision makers."

Most people (88 per cent) said they wish to die at home, provided they and their loved ones are supported by health and other services.
'What we are seeing from this survey is that people are making decisions about what they want at the end of life, like where they would like to die, but they're not communicating this to their loved ones and health professionals.
"We shouldn't take for granted that our loved ones know what we want at the end of life, or will be comfortable making these decisions at a time which is already very stressful for them.
"It is vital that Australians share their wishes with loved ones and health professionals clearly – these are the people who may have to make decisions if you're not able to. Not only should you have these discussions but also put it down in writing, for example in an Advance Care Directive – some things are just too important to be left unsaid."
In recognition of the important role that primary care plays in managing end of life care, Palliative Care Australia also undertook research with GPs to better understand the needs of doctors in facilitating end of life care.
Of approximately 300 GPs surveyed, 96 per cent agreed they have an important role to play in supporting people at the end of life. Over 80 per cent have initiated conversations about death, dying and advance care planning which indicates that most already have a high level of engagement.
Despite already taking an active role in end of life care, over one third of GPs reported that they received no palliative care training at undergraduate level and 84 per cent said they don't use any tools to identify patients who will die within the next 12 months.
Dr Scott Blackwell, a GP and president of Palliative Care Australia, said the results of the GP research provide helpful insights into how doctors can best be supported: "GPs recognise that they have an important role to play in delivering palliative care and are happy to assume this role, however the research show current systems aren't providing them with enough support."
"Palliative Care Australia is calling for more undergraduate education and continuing professional development, and educational tools and resources for GPs to be better equipped to assist Australians at the end of their lives."
National Palliative Care Week highlights the importance of knowing what care and support is available, and how it can be accessed. It aims to encourage people to think about how they would like to spend the end stage of their life – about who may look after them and where they want to be.
Dr Luxford concludes: "Palliative Care is about living well at the end of your life – it's for you, your carers and your family. Make sure you avoid a situation where people don't know what to do – preparing an advance care plan ahead of time will ensure everyone knows what you want and can help alleviate some of the stresses at the end of life."
Breaky at Parliament House
Around 100 people took to the Great Hall of Parliament House this morning for the offical launch of National Palliative Care Week and a one-day education forum, run by Palliative Care Australia.
The breakfast seminar featured a panel discussion on the consumer's experience of palliative care, which was facilitated by host of ABC Radio National's Health Report, Dr Norman Swan.
The panel featured Nicky Lancaster, who cared for a family member with motor neurone disease, and Lee Hillier, a young Canberra man who makes use of palliative care services as he has muscular dystrophy.
The bright and ambitious Mr Hillier is studying political science and philosophy at the Australian National University, and told the audience he aspires to enter politics.
Here are some of the photos of this morning's breakfast event:
Above: Breakfast at Parliament (L-R): ABC broadcaster, Dr Norman Swan; Nicky Lancester (former carer); Lee Hillier (palliative care consumer); and John Hillier (Lee's father).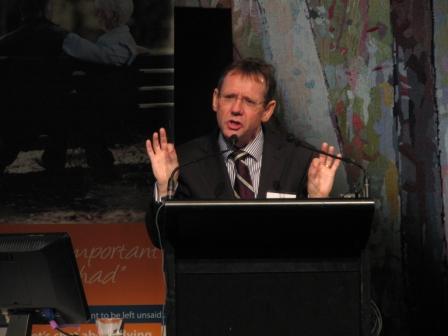 Above: Professor Jeffrey Braithwaite delivers the keynote address of the event, The future of healthcare in Australia- how will palliative care fit?
Below: Minister for Mental Health and Ageing, Mark Butler, officially kicks off National Palliative Care Week at the breakfast function at Parliament House this morning. He stressed that palliative care should be the 'core business' of aged care and that even though Australia's palliative care services rank highly, there is always room to do better.