Exercise, tai chi and qigong, self-help books, computer-based therapies or computer games, and reminiscing on the challenges a senior has overcome in life have been rated as the top five most effective activities for improving the emotional wellbeing of older people.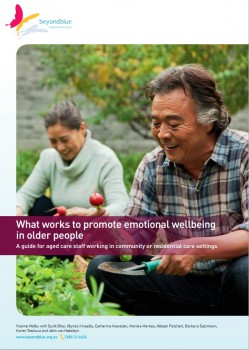 A new booklet developed specifically for aged care workers has identified and rated the best activities for improving and protecting the mental health of older Australians.
Based on La Trobe University research, the booklet What works to promote emotional wellbeing in older people has been produced by beyondblue.
The rating of each activity, from a score of zero to three, showed how effective it was at improving older people's emotional wellbeing or helping alleviate depression or anxiety, in both community and residential care.
The rating was based on how many studies within the past 15 years had found that the activity was effective, meaning anyone using the booklet can have confidence in the ratings.
Activities identified in the booklet include playing computer games, interacting with clowns, spending time with animals and singing in a choir, among others.
Most activities featured were accompanied by case studies, providing examples of how they had been implemented and their impact.
beyondblue CEO Georgie Harman said the booklet was an invaluable resource for people who work with older adults in community or residential aged care.
"Around one in 10 older adults experiences depression and a similar number experiences anxiety. Mental health conditions are even more common among older people in the community who are frail and need support to remain at home, and among those in residential care. Research shows nearly 35 per cent of people living in residential care facilities have depression," Ms Harman said.
"This resource makes it simple for aged care workers to determine the most effective strategies for improving the mental health of older people."
Ms Harman said there were activities in the booklet to suit older people of all physical and cognitive capabilities, including those with memory problems or dementia. These range from physical activities like gardening and tai chi, to relaxation activities like meditation.
"This booklet makes it much easier for those caring for older people to make informed, evidence-based decisions on how to improve their mental health."
What works to promote emotional wellbeing in older people is available online. Aged care providers, health providers and other relevant organisations can also request a printed version from beyondblue.