The number of aged care complaints and services failing to comply with standards have risen, but reportable incidents have fallen, according to the quality commission's latest performance report.
There are 4,920 aged care services, including 2,684 residential care services, and 188,931 aged care residents, the Aged Care Quality and Safety Commission Sector performance report on the January – March 2022 quarter shows.
There were 2,767 aged care complaints for the quarter, including 1,679 complaints related to residential care. That's up from 2,543 and 1,639 respectively on the previous quarter. But complaints per 100 residents have remained at 0.89, according to the report released earlier this month.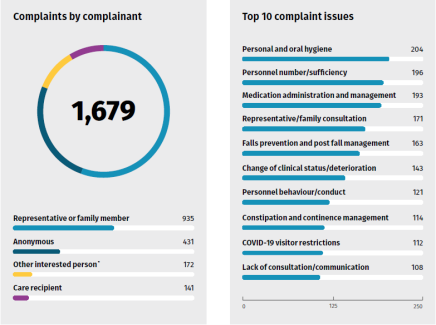 The latest aged care complaints covered 4,155 issues and 978 residential care services. Among the most common issues complained about were personal and oral hygiene, staff numbers and medication management (see top 10 list above). Visitor restrictions (112) and concerns about preparedness and prevention topped the list of COVID-19 related complaints.
Around two-thirds of services received one complaint (621) and the remainder more than one (357). Most complaints were made by a representative or family member (935), followed by anonymous (403), other interested person (172) and the care recipient (141).
The commission finalised 1,372 complaints about residential care during the quarter. Across all of aged care there were 5,980 issues raised and 4,806 issues finalised.
Reportable incidents down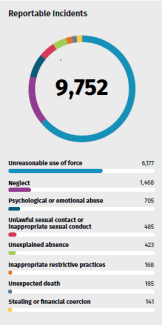 The commission received 9,752 reportable incidents including 3,900 priority one and 5,852 priority two notifications. Total and priority one notifications have fallen compared to the previous quarter of 10,930 and 5,102 reportable incidents respectively.
However, priority two notifications are a little higher than the previous quarter (5,828).
Almost two-thirds of reported incidents were for unreasonable use of force (6,177 – see graph right).
According to the report, the large proportion of notifications of 'Unreasonable use of force' is partly attributable to the relatively broad range of incidents that can be captured under this heading – including squeezing, grabbing, pinching, rough handling, hitting, pushing, and forcing someone to move against their will.
Another reason is the incident type also includes alleged, suspected or known incidents initiated by a resident that impact another resident.
The commission made a regulatory or enforcement response to 1,434 reportable incidents, most commonly with monitoring and engagement (1,402).
Non-compliance up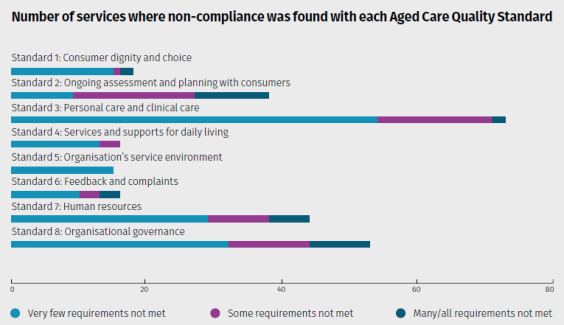 Standard three's safe and effective personal and clinical care continues to be the most common standard residential homes are failing to comply with.
During the quarter, the commission made 758 site visits, which includes site audits, performance assessments, monitoring contacts and quality audits, including 693 to residential services.
It made 3,743 assessment contacts either off site (3214) or on site (529), and attended 2,795 outbreak management team meetings.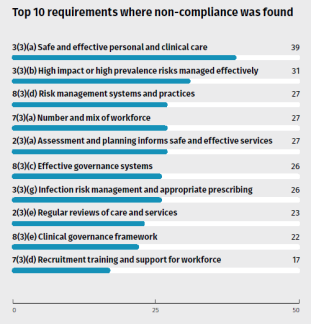 The commission found 120 services non-compliant with at least one quality standard, including 99 residential aged care services. That's up from 97 services and 86 residential homes found to be non-compliant the previous quarter.
Non-compliance most commonly related to personal and clinical care and governance (see top 10 graph right).
During the quarter, the commission sanctioned nine homes, up from two the previous quarter.
In regards to residential services, the commission issued:
50 directions to revise plan for continuous improvement
4 incident management compliance notices
1 restrictive practices compliance notice
37 non-compliance notices
14 notices to agree.
Over the quarter, the commission accredited four new residential services and reaccredited 275 services for either three years or more (249) or less than three years (26). Two services had their accreditation period reduced.
No new residential providers approved
The commission received 10 applications to become an approved provider during the quarter but only one was for residential aged care. In the Jan-Mar 2022 quarter, no application for new residential providers were approved but two were denied approval.
Comment on the story below. Follow Australian Ageing Agenda on Facebook, Twitter and LinkedIn, sign up to our twice-weekly newsletter and subscribe to AAA magazine for the complete aged care picture.