An evidence-based guide has been launched to help staff working in residential aged care incorporate spirituality into the care of frail residents.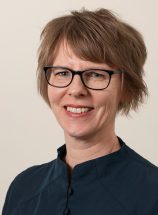 The Frailty and Spiritual Care guide has been developed by spiritual care peak body Meaningful Ageing Australia.
It aims to assist staff to build strong bonds of trust with residents who are becoming frail.
Meaningful Ageing Australia CEO Ilsa Hampton said shaping the language around older people's perceived identities was key.
"It's important to focus on the abilities of older people despite any increasing frailty and chronic conditions and acknowledge them as people rather than the sum of their symptoms," Ms Hampton said.
"The word frailty implies vulnerability and weakness," she said.
Spiritual wellbeing can be harnessed and maintained even as an older person's physical and mental capabilities are threatened by frailty, she said.
Staff can use creative thinking to develop solutions when experiencing challenges caring for frail people, such as knitting groups visiting socially isolated bedridden residents or allowing those who love gardening to feel soil through their fingers, Ms Hampton said.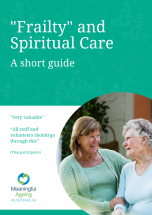 The guide encourages aged care staff to be active listeners, to pause and to collaborate in sessions to share ideas.
It includes:
educational tools and information on responding to challenges of frailty
scenarios for aged care staff to reflect on
ongoing spiritual practices to connect with older people
worksheets for providers to share with their staff.
Charles Sturt University Associate Professor Dr Elizabeth MacKinlay said the resource was a valuable guide for staff to support residents' spiritual wellbeing.
"It contains much needed practical information and education tools for learning how to provide best care for people in this situation.
"It will be invaluable for training purposes and particularly at this time as it incorporates the new standards for quality aged care in Australia," Dr Elizabeth MacKinlay said.
Frailty and Spiritual Care is currently available for free to Meaningful Ageing Australia members here. Parts of the guide will be made available to non-members later in the year.
Comment below to have your say on this story
Subscribe to Australian Ageing Agenda magazine and sign up to the AAA newsletter