In this story:
Australian providers top Asia Pacific industry awards
Call to assist grandparents in caring role
New CEO for Goodwin
Overweight older people live longer: study
Australian providers top Asia Pacific industry awards
Australian aged care providers were the big winners at the 2nd annual Asia Pacific Eldercare Innovation Awards held in Singapore last week.
Mark Moran in Little Bay in Sydney was named Facility of the Year competing against entries from countries across the Asia Pacific, while RDNS won in the Best Staff Capability Development Program category for its Manager's Toolkit.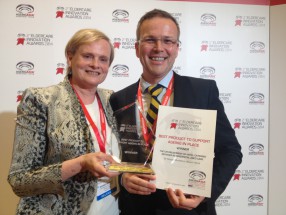 Montefiore was also recognised on the night for its hotel-quality catering services. The Sydney-based provider won in the Best Product to Support Ageing in Place category and was also a finalist for Facility of the Year.
Montefiore CEO Robert Orie acknowledged the dedication and commitment of the organisation's catering services team and thanked general manager of hotel services Susan Vickery and predecessor, Howard Kaplan.
"Both Howard and Susan have held senior positions in luxury hotels and I am indebted to both Howard's vision and Susan's ongoing commitment towards the provision of catering services that match that provided by the finest hotels," said Mr Orie.
The Asia Pacific Eldercare Innovation Awards recognises organisations in Asia Pacific countries that demonstrate innovation in their business, operational and service models to support the health and dignity of seniors.
The awards night, which received over 40 nominations, was held in conjunction with the 5th Ageing Asia Investment Forum in Singapore.
Almost 40 per cent of nominations were from Australia and New Zealand. Other award winners were from Hong Kong and Singapore.
Call to assist grandparents in caring role
COTA Australia has called for urgent action to better recognise grandparents who take primary responsibility for their grandchildren through greater financial support, better access to legal services and options for respite.
The recommendations are contained in the consumer lobby's submission to the current Senate Inquiry into this issue, which also urged the Commonwealth Government to review the Carer Recognition Act to recognise grandparent carers.
COTA chief executive Ian Yates said research estimated up to 63,500 grandparents had sole caring responsibility for their grandchildren in Australia. This included parents who were unable to care for their children because of substance abuse, a criminal conviction and serious mental illness.
He said many grandparents have already retired before taking on the caring role and struggled to meet the financial and legal costs of caring for their grandchildren.
Mr Yates said the criteria to access Legal Aid should be reviewed to support grandparents seeking custody of their grandchildren.
Support services and bureaucracies were also difficult to navigate and access, and grandparents routinely missed out on entitlements because of the complexity of the system, he said
"Right now there are only six grandparent liaison officers in Centrelink trying to provide advice and information to every grandparent carer in the country," he said.
Read the full submission here
Related AAA coverage: Grandparents pulling their weight at home
New CEO for Goodwin
Canberra's largest aged care provider Goodwin has promoted its executive manager – community care, Sue Levy, to the role of CEO.
Ms Levy joined Goodwin in 2008 and in her previous role led the organisation's expansion of home care services throughout Canberra and parts of NSW.
Board Chairman Geoff Knuckey said: "Sue's depth of knowledge in the provision of aged services combined with her leadership ability will strengthen Goodwin's business vision."
"Sue has displayed an immense dedication in the diversification of services, enhancing workforce stability and applying business strategies which focus on health and wellbeing outcomes for older Australians."
Ms Levy said she was honoured to take up the leadership position.
"The opportunity ahead for Goodwin and its clients is positive, and I am delighted to work with the Board and executive team in achieving new milestones," Ms Levy said.
Ms Levy commenced in the role on Monday.
Overweight older people live longer: study
A Deakin University study has recommended current Body Mass Index (BMI) guidelines for older people should be reviewed in light of new evidence showing older people with a BMI in the overweight range lived longer.
The study published in the latest edition of The American Journal of Clinical Nutrition found the lowest risk of death in people aged 65 and over was among those with a BMI of around 27.5, which is considered overweight according to the World Health Organisation guidelines. Mortality also significantly increased in older people with a BMI between 22 and 23, which is in the normal weight range.
Lead researcher, Deakin University's professor of nutrition and ageing, Caryl Nowson said the findings suggested it was time to reassess the healthy weight guidelines for older people.
"Our results showed that those over the age of 65 with a BMI of between 23 and 33 lived longer, indicating that the ideal body weight for older people is significantly higher than the recommended 18.5—25 'normal' healthy weight range."
Professor Nowson said being overweight was not associated with an increased risk of dying and those at the lower end of the normal BMI range (less than 23) showed a higher risk.
She said advice on ideal body weight should take into account factors other than BMI such as chronic diseases and mobility.
"Rather than focussing on weight loss, older people should put their efforts into having a balanced diet, eating when hungry and keeping active."
She said putting too much emphasis on dietary restrictions also increased the risk of malnutrition in this age group.