Prevention is the best course of action for dealing with coronavirus in Australian residential aged care, and facilities should lockdown and lockdown hard, says a leading aged care expert.
The situation overseas shows the importance of this, says Professor Joseph Ibrahim, a practising senior specialist in geriatric medicine and head of Monash University's Health Law and Ageing Research Unit.
"Once the virus is in, as we have seen in America and Europe, it is devastating," Professor Ibrahim told Australian Ageing Agenda.
"We want to do everything we can to stop it from getting in because once it is in, what we are able to do is quite limited," he said.
Professor Ibrahim sees three groups.
There are older people with multiple chronic diseases and a serious COVID infection who will die regardless of what anyone does, and another group with a mild case of COVID who survive.
"It is the middle group I am worried about. It's the ones who have a mild to moderate infection with COVID that tips the balance of their other diseases.
"With attention to detail and early support we would be able to rescue a lot of those people," Professor Ibrahim said.
"We need to reinforce as much as possible and work towards prevention and get everyone to focus on hand washing, social distancing and paying attention to the small things that we think don't matter.
"They are the things that are critical," said Professor Ibrahim, who is part of a new COVID-19 podcast series and closed Facebook group targeting aged care staff and management.
"If we manage the infection control absolutely meticulously in residential aged care, we save the lives of residents, we save the lives of staff and we reduce the need for additional health services, which will be stressed," Professor Ibrahim told.
Pandemic takes away usual support
A pandemic affects all levels of society and the resources and people facilities usually rely or draw on are busy doing other equally important things, he said.
During a gastro outbreak in one, two or five facilities in Victoria, there are 700 other places in the state that could send staff and acute hospitals are not overstretched with cases coming out of the door, Professor Ibrahim offered as an example.
"In a pandemic you need to be far more innovative. You need to be able to make decisions on evidence that is in front of you.
"We have to be making decisions in a considered way that is open and shared with other people who understand the dilemmas and [we have to be] making choices in the best possible way," Professor Ibrahim said.
Resource fills gap in media
This is where the Prof Joe Covid 19 Aged Care Podcast launched last week comes in.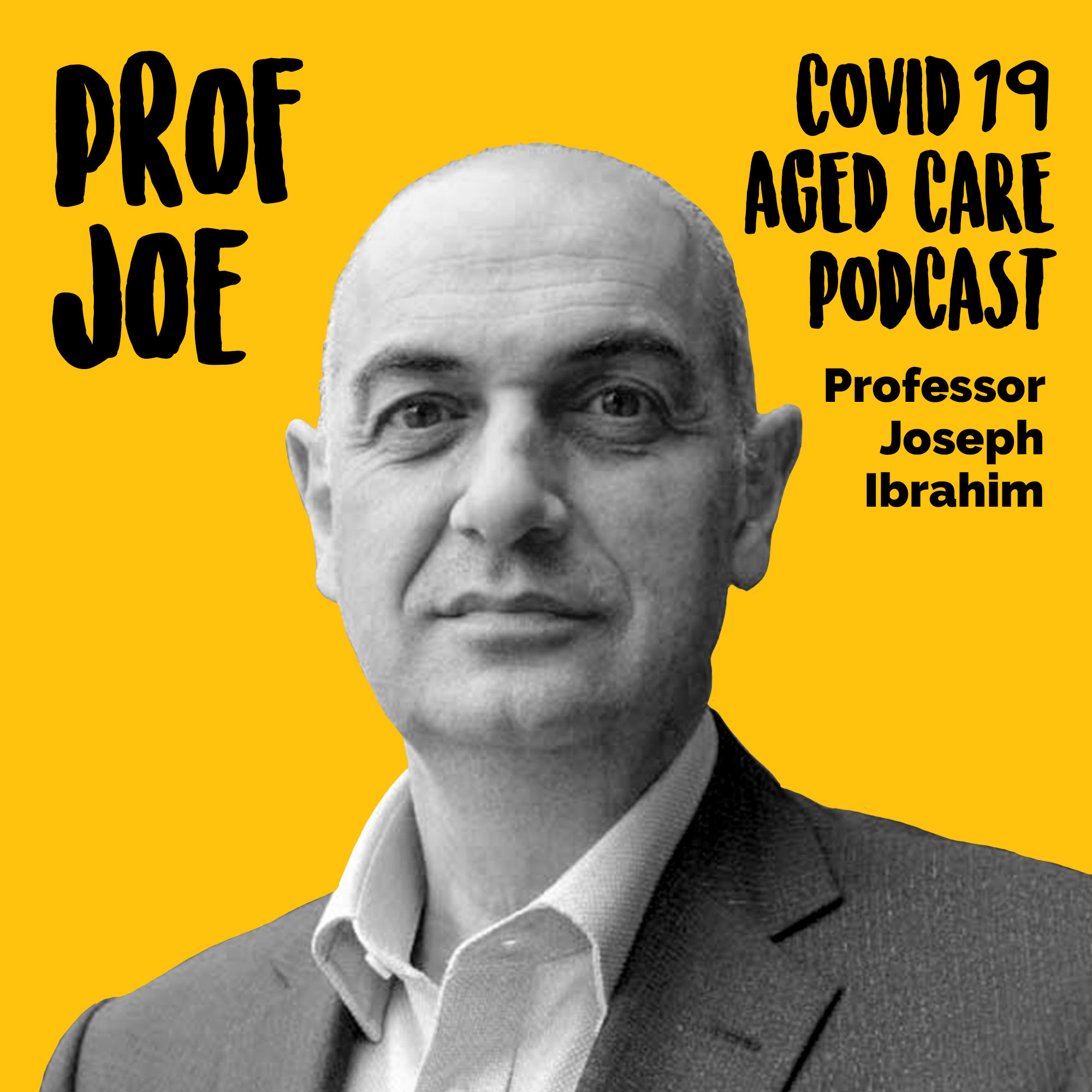 It aims to fill a gap in aged care specific media coverage, information and resources.
There have been nine episodes published to date with Professor Ibrahim discussing COVID-19 and how it affects aged care residents and the people who care for them.
Since going live the podcast has listened to more than 1,600 times and received more than 1,200 unique users.
It is hosted by Prateek Bandopadhayay and features subject-matter experts, industry and health professionals and consumer advocates.
Among them are Napier Street Aged Care Services CEO Marie Crossland, aged care occupational therapist Sally Eastewood, COTA Australia chief executive Ian Yates and infection control nurse Noleen Bennet.
Call for strict but humane restrictions
In the most popular episode to date, Professor Ibrahim calls for aged care facilities to go further than government advised visitor restrictions and immediately implement a hard lockdown.
"We don't believe the government recommendations are strict enough or sufficiently standardised. They allow for a wide range of interpretation, which creates confusion and loopholes in it.
"We think you need a very strict lockdown. You need to restrict the total number of people coming in and out of any place," he said.
However, Professor Ibrahim said the restrictions must be humane and make way for exceptional circumstances, which is covered in a subsequent podcast.
The exemptions would be around end-of-life care, for families who provide daily hands on personal care and the family of residents with dementia who may become more confused, alienated and frightened or fail to respond to calming techniques from staff, he said.
"They're three exceptions. Clear direction on that strictly applying to every home in the country is needed. Otherwise we end up with these experiences where some facilities say we have been letting lots of people in and nothing has happened."
But just because nothing has happened doesn't mean it's not going to, he said.
The challenge with understanding prevention is that when it works, you never see it, like how seatbelts prevent people dying in car accidents, Professor Ibrahim said.
"For prevention to work every single person no matter who they are has to play that role because that's what helps everyone, helps the country and keeps everyone going."
Stories of no problems arising from breaching or relaxing the rules gives people a false sense of security, he said.
The latest episode is on infection control and future planned episodes will look at surveillance, mental health and operating during a coronavirus outbreak among several other topics.
FB group connects workers
The Prof Joe COVID 19 Aged Care Facebook Group is restricted to aged care workers so they can speak freely, ask questions and share ideas.
It has gained more than 90 members in its first week.
"That closed Facebook page could potentially have the greatest impact of anything our team does because it connects people to share their successes and their worries.
"The other thing is it gives you a greater sense of community and gives you more people to think through what the problems might be," Professor Ibrahim said.
The infection control and infectious diseases specialists will help the aged care sector on the technical side, but only the people in aged care can help colleagues with working together, following instructions, being innovative, and caring for others.
"It is up to us to work as a team and find ways to make their instructions come to life, and help us," Professor Ibrahim said.
"Those ideas come from everyone, not just technical experts."
The other members of the Prof Joe Covid 19 Aged Care Podcast team are Jeremy Ley, Mia Gvozdic and Bernard Thomson.
Access the podcast and Facebook group at profjoe.com.au
Comment below to have your say on this story. Subscribe to Australian Ageing Agenda magazine and sign up to the AAA newsletter