It was not "a compellingly good example of outbreak management" at Newmarch House in western Sydney, the aged care commissioner has told a senate inquiry.
The Senate select committee on COVID-19 held a public hearing on Tuesday looking at aged care responses to the pandemic.
Much of the hearing focused on the country's second biggest cluster at Anglicare Sydney's Newmarch House aged care facility in Caddens.
The outbreak, which is still underway, has been linked to 71 positive cases among staff (34) and residents (37) and the death of 17 residents (read more here).
The outbreak has resulted in three regulatory actions from the Aged Care Quality and Safety Commission including the sppointment of a management team experienced in managing COVID-19 in aged care, a team of registered nurses, and finally an independent advisor (read more here).
Aged Care Quality and Safety Commissioner Janet Anderson said the three regulatory actions at Newmarch House were taken in a measured, considered and evidence based way based on the commission's assessment into the how Anglicare Sydney was managing the situation.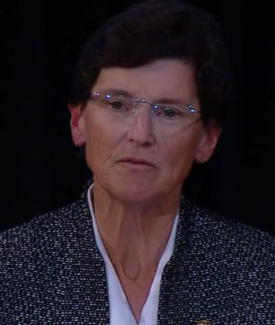 "It was not a compellingly good example of outbreak management. And my commission looking at all the evidence we had available to us daily as it emerged concluded that they needed significant help in their management of that outbreak," Ms Anderson told the inquiry.
Newmarch outbreak different to others
Senator Kristina Keneally asked why the outcomes were so different at Newmarch House to those at Dorothy Henderson Lodge and Opal Bankstown, both also in Sydney.
Ms Anderson said there were many factors that started with the origin of the virus at Newmarch, which was fundamentally different to any other in Australia.
"The extent of the initial exposure of staff and residents set the scene for what followed. There was a trajectory that was established in those opening days," she said.
On the first day, 12 April, there were two positive cases, one resident and one staff member. By day seven, 18 April, there were 25 residents and 14 staff found positive, Ms Anderson said.
"In the space of six days, we moved from one and one to 25 and 14. That was set before day one. That was set by virtue of degree of exposure of those residents and those staff to an individual who unwittingly was infectious and working at the service."
Additionally, any outbreak knocks aside business as usual because facilities need to put residents into self-isolation and exposed staff off the roster and into self-isolation at home, Ms Anderson said.
They need to bring in and train staff on how to use personal protective equipment, ensure continued supplies of PPE and get infection control advice, she said.
"Nothing is predictable. Nothing is as what we expected to do today because it is entirely focused on managing an outbreak."
Factors for regulatory action
Ms Keneally asked about the factors that prompted the commission to put a management team in place, which consisted of three staff experienced in a COVID-19 outbreak from BaptistCare's Dorothy Henderson Lodge.
Ms Anderson said they weren't confident the facility was being adequately managed in a way that was fully across the emerging complexities.
"We found over the course of time Anglicare Sydney was not as well-placed as we wanted them to be, needed them to be, to make well-informed decisions and see them through to immediate implementation.
"The gaps were getting too large. We weren't getting the responsiveness that we expected from an aged care service managing an outbreak," Ms Anderson said.
She said there were many dimensions to that including concerns for the wellbeing of residents, ill or poorly informed decisions, and not looking as far ahead as needed in terms of the fundamentals.
"Did they have sufficient staff? Did the staff have the right skillset? Were they managing their stock control adequately? …Were they on top of things sufficiently that we as a regulator could be assured that the safety and wellbeing of the residents was well in hand?"
"And we did not have that assurance."
Difficulties identified over PPE requests
Ms Keneally asked the panel about the ability of Newmarch House to access PPE in response to public comments from Anglicare Sydney CEO Grant Millard that they asked but did not receive.
All aged care facilities are entitled to access PPE from the national medical stockpile when experiencing a COVID-19 outbreak.
Department of Health deputy secretary Michael Lye said Newmarch House has been receiving PPE from the national stockpile at regular intervals.
However, he said the department had some of difficulty with the organisation responding to requests to identify PPE needs.
"On four or five occasions the person from the Department of Health responsible for organisation provision of PPE asked the service to document what they need and on several occasions throughout the timeline of the Newmarch outbreak it is two or three days before what is required is specified by the organisation," Mr Lye told the committee.
"The actual problem we have identified is there was a difficulty for the organisation on the ground in being able to tell us what stock they had, what stock they needed and what stock they needed in terms of forward days.
"That is something we have worked with them on and we now have a procedure in place to make sure they can say this is what we will need over the next seven to 14 days," Mr Lye said.
Mr Lye said the department was responding quickly to requests for protective equipment.
"Where there is an outbreak, we will move heaven and earth to get PPE to people and I think we have succeeded in doing that in all locations," he said.
Department of Health acting secretary Caroline Edwards said the Department of Health has complied quickly with every request for PPE from Newmarch House and all facilities where there has been an outbreak.
Elsewhere Ms Edwards asked to note how difficult a situation it was for everyone at Newmarch House including the proprietor, operator and staff.
"While it was necessary to take important action under the regulator we do appreciate that Newmarch House was in a very difficult position and we certainly think everyone was trying to do their hardest to do the right thing by residents there.
"We wouldn't want any suggestion that we think otherwise," Ms Edwards told the inquiry.
Comment below to have your say on this story. Subscribe to Australian Ageing Agenda magazine and sign up to the AAA newsletter