Smart coatings on walls and floors that detect changes in the environment could help older people stay safe at home for longer, say researchers at Deakin University.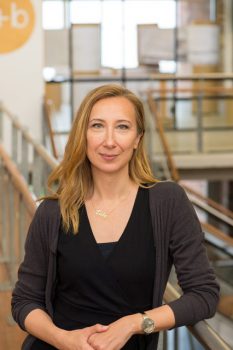 Scientists have developed graphene coatings with ultra-thin sensors that can record changes in temperature, humidity and pressure inside a building and send data to be analysed in real-time.
The brand new technology has been mastered by Geelong-based Imagine Intelligent Materials, while researchers in Deakin's Mediated Intelligence in Design (MInD) Lab are exploring ways to put the surface material to practical use.
Intelligent materials are already used widely in the mining, automotive and aerospace industries, but there is limited understanding of the technology's potential inside public and private buildings. In these places, the technology could be a lot more accurate and a lot cheaper than traditional sensors.
An intelligent home care system
MInD Lab Director Professor Tuba Kocaturk, from Deakin's School of Architecture and Built Environment, says the smart material could be used to create an intelligent home care system, which could have huge benefits in aged care.
"We have an ageing population worldwide – in China alone there will be 118 million empty-nesters by 2020 and their health and wellbeing is of huge concern to their families and society as a whole," she told Community Care Review.
"We know many elderly people prefer to remain in their own home and these smart materials can assist them with this.
"When someone falls, immediate pressure would be applied to the surface – data that can be captured and shared immediately with relatives and carers, for example, or even hospitals."
But the smart material's intelligence can go way further, says Prof Kocaturk.
"What is more exciting, is we can create algorithms that understand certain patterns and movements, and when these change, we can be notified."
The material could detect, for example, if an individual's walking is different to normal, or less than normal, which could enable relatives or carers to get to their loved one before an incident occurs.
If someone left a tap on, the first drip onto the floor would be detected by the material's sensors.
"The potential in aged care is immense," says Prof Kocaturk.
But plenty of research is needed, not only in how to collect information from the surface accurately, but also in how to send it to devices so it appears in a way that can be easily interpreted.
"We want a user interface that anyone is able to understand," she says.
Test floors in development
Researchers at Deakin are looking to establish test floors on a number of locations, including in their own MInD Lab.
They also need to better understand the cost implications and maintenance requirements of the material.
"We need to understand how this will develop into a proper working system. If it does, it will be extremely exciting," said Prof Kocaturk.
"It just makes so much sense you wonder why it hasn't been done before."