By Keryn Curtis
A new report commissioned by not for profit aged services provider, Benetas and undertaken by researchers from Deakin University, suggests that greater time and careful listening is required to understand the real lived experiences of older women and better respond to their needs as they age.
The research project, entitled, 'Women at Work — the voices of older women' sought to compare older women's experiences in paid and unpaid employment and how this impacts on their ageing experience. It involved in-depth interviews with 25 women aged between 66 and 92, all living independently in the eastern and south-eastern suburbs of Melbourne, except for two in residential care.
Researcher and co-author of the report, Associate Professor Grazyna Zajdow said the project grew from a concept that certain life experiences might influence the experience of 'good ageing'. In particular, it started with the hypothesis that older women – for whom community expectations had usually dictated that a woman's place was in the home looking after children – may be envious of younger women and the opportunities they enjoy today, compared to their own experiences.
"Did older women, whose children and grandchildren had different opportunities, feel resentment toward younger generations? It became clear that they didn't," said Prof Zajdow.
"But the lived experience of their working lives became the focus," she said. "An interesting observation came up in our background research relating to women's involvement in labour in general; and that was that the only reliable statistics about women's work were census figures from the time.
"But when you dug down and asked the women about the work they had done, you found a different picture. We realised that if you are trying to understand, say paid employment among women in the 1950s, by relying on data from a general census every five years, usually completed by the husband, then you are not going to get a very clear picture," she said.
According to the report, while many women initially considered that their work lives had been short, greater questioning elicited long-forgotten memories of paid employment, albeit usually in the form of infrequent or short-term jobs.
"It would seem that more research of this type would be very useful in giving this group of women a greater voice. Many of the women did not feel they had led interesting lives until they began talking and relating their experiences.

"Despite the cultural norm that married women should not work unless they were disadvantaged, most of the women in fact worked all of their adult lives. Indeed many continued well beyond the retirement age for women of 60, some working well past the age of 70. Others worked, whether through desire or necessity, even while sick or disabled. Despite somewhat fragmented working lives, they liked work and the benefits of extra money, the contribution to the household economy they were able to make and spending time with workmates. Indeed quite a few of the women continued doing community work as volunteers." From the report
Prof Zajdow said this research project highlighted that unless researchers go out and ask the detailed questions, we would never have an accurate picture by relying on statistics.
"We buy into this myth that women didn't work. But without doubt, these are women who have more agency than previously thought."
Change of practice
Research and development manager for Benetas, Alan Gruner, said the organisation commissioned the research in order to better understand the experiences of older women.
"The aim was to try to find out a bit more about what people think about these issues and how these views and perceptions might influence the way they experience ageing and the way we might respond better to their needs," says Mr Gruner.
"We really wanted to hear the voice of older people, because so much of the information we have is quantitative.
"This one was very intensive. Researchers had about an hour with each woman – to let the person really reflect deeply and talk about themselves," he said.
Mr Gruner said one of the key findings for Benetas, was the importance of probing deeply when doing assessments of people.
"In terms of our work, we have changed the way we assess people in referrals. We've found out that most people who said that they weren't employed, had actually worked but they hadn't seen that the work they were doing counted as work.
"It can mean a changing in the viewpoint they have of themselves. It's important to people to feel that they have contributed and still are contributing as they age ," said Mr Gruner.
"So we have changed our assessment process so there is more of an in-depth interview; a conversation where we can let people open up and talk about themselves. And we can find out what really interests them and explore opportunities to get them contributing again."
Above: Benetas CEO, Sandra Hills and Ambassador for Ageing, Noeline Brown.
The report, 'Women at Work – the voices of older women' was officially lanched by Ambassador for Ageing, Noeline Brown, last week on Thursday 7 March at an event held at Australian Centre for Moving Images (ACMI) at Melbourne's Federation Square. Deakin University researchers Grazyna Zajdow and Marilyn Poole and a selection of the women from the project, joined Reverend Canon Dr Colleen O'Reilly, Vicar of St George's Malvern, and Sandra Hills, CEO Benetas, for the event.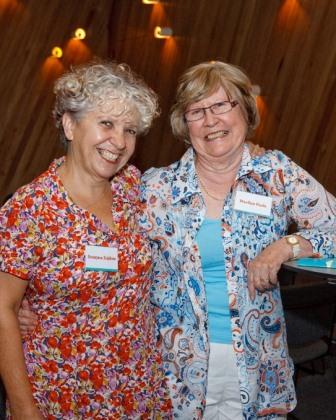 Above: L-R Assoc professor Grayzna Zajdow and Marilyn Poole at the event.
Below: Some of the women who were interviewed as part of the research project.