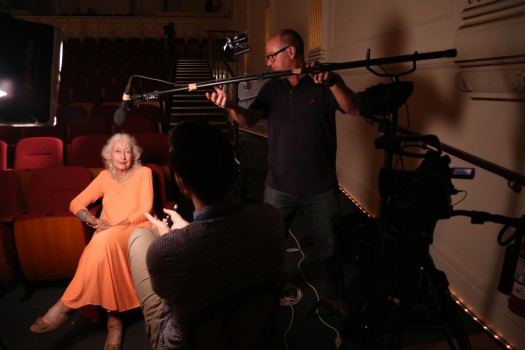 Right now in Australia we should be planning for how we want to live at age 100, because it is clear we're not ready for the new cohort of centenarians, writes Dr Maggie Haertsch
In February, Australian Ageing Agenda reported on the crowdfunding campaign initiated by the Arts Health Institute to help centenarian Eileen Kramer stage her new dance work. This was followed in March by my article on the negative impact of ageist stereotyping which highlighted Eileen, 'the 100-year-old dancer' as an excellent example of positive ageing. Given the tremendous following that Eileen is experiencing, it is timely to report back to AAA readers on what Eileen is up to.
What does Madonna and Eileen Kramer have in common? You may never have thought that a comparison between them would be possible. Madonna is 57 and Eileen 100, but both are creative forces in dance, both have lived in New York and have a career in the arts, have rubbed shoulders with many celebrities, and both love to work with people of all ages. But perhaps their most striking similarity is their ability to reinvent themselves, adjusting to the times and the opportunities that are presented to them in their creative pursuits. They challenge the stereotypes of what others think they can, or rather should, do.
Eileen has worked all her life and is continuing to evolve the dance work she choreographed and performed at Lewisberg before returning home to Australia last September after decades in the US. During the course of her new dance season in March this year and in the height of unprecedented media exposure, the term "doing an Eileen" was born. The inverted elegant hand against the cheek with eyes gazing toward heaven became her signature that fans replicated as selfies. Eileen is adamant that she is no pin up girl for aged care, that she has no cause to champion, or any right to tell people how to live a good life. However, her continued work as an artist is nothing short of extraordinary and she provides us with a living example of what we can aspire to be doing as more and more of us continue to push to the grand century.
In this year's Intergenerational Report, it is predicted that by 2055, 40,000 people in Australia will live close to 100 years, a stark contrast to 1975 when there were only 122 centenarians. We in Australia should be planning how we will live at 100. Australia is  ranked fifth in life expectancy after Japan, Spain, France and Italy for women and first for men, on par with Iceland.
If Eileen's life is anything to go by, then as a country we are still not ready. Eileen's pursuits provide us with valuable insight into the barriers and stumbling blocks she encounters as she achieves her aspirations. The Roads and Maritime Services' system crashed as they entered a three-digit age when Eileen applied for a disability parking permit. Her experience of visiting a residential aged care facility, considered to be one of the best, she found depressingly boring. Its accent on ageing, bingo and blue rinse perms held little appeal. Eileen provides the litmus test as we genuinely search for improved designs and foster a model of wellness in our systems to support people "who have been on this planet for a long time" as she puts it.
The Arts Health Institute ran a crowd funding campaign because there was no other way to secure funding in the timeframe for her dance drama The Early Ones to reach the stage. Arts funding is skewed towards emerging artists, developing a touring work for an international audience. The competition for Eileen against young emerging artists embarking on their careers was not worth the effort of a tedious funding application where in many cases the outcome may not be known for another 6 months. After all, time is everything when you are 100.
Our crowdfunding proved to be an invaluable challenge. Not only was the funding target exceeded, raising $30,000 in 18 days, the process enabled her story to go global as she inspired millions. The optimism of a 100-year-old choreographer, dancer and costume designer was a true life force, putting a new perspective onto our own sense of ageing. To date, the ABC news story sits at around 9 million views, while Eileen has been seen on television networks throughout Asia, USA and Europe. Journalists continue to write about her.
Eileen's creative working life continues to be busy. She is in three music videos, and is running a monthly movement workshop for both dancers and non-dancers. She stars in the latest production of Belvoir St Theatre's The Wizard of Oz throughout May and has plans to further develop The Early Ones (her original dance work developed in March); not to mention a number of other creative projects in the pipeline.
Eileen is a powerhouse of energy. She has also contributed to research by participating in the CHeBA centenarian study to help understand the determinants of healthy brain ageing. She has also been interviewed for multiple dance research projects throwing light on the dance world, where dancers who would normally think that retirement at 40 is inevitable.
Yes, Eileen uses an iPhone, can send text messages and loves the local cafe that is linking her to new contacts and to the bigger world full of opportunities. To really think how to create an 'aged care' experience or to design a service for elders, imagine someone like Eileen and this will guide the path to improving aged care.
If you would like to see Eileen in The Wizard of Oz at the Belvoir St Theatre Sydney in May, send a message to Eileen and mention this article. Belvoir has kindly donated one double pass.
Dr Maggie Haertsch is executive director and CEO of the Arts Health Institute, a non-profit organisation working to improve lives through the integration of the arts into all aspects of health and aged care environments.
Australian Ageing Agenda is media partner of the AHI.