The importance of social connection for older people will be a focus for Bolton Clarke's volunteering program during the festive season.
Bolton Clarke's community partnerships coordinator Meg A'Hearn said the organisation's HOW-R-U? program – which has proved effective in reducing feelings of isolation and loneliness among individuals recently discharged from hospital – has been adapted to support home care clients over the holiday period through weekly phone calls.
"The calls are especially beneficial to our participants around this time because when people are alone at Christmas they greatly value a call from a volunteer," said Ms A'Hearn. "It makes people realise that there is someone out there who is thinking of them and wishing them well."
For some home care clients, the phone calls are the only connection they will have other than a nurse's visit, said Ms A'Hearn. "It's a way to have part of that need for connection met, which is very important for health and wellbeing."
Abbie Moore is a volunteer and a Bolton Clarke support centre team member. For her, the program is a way for her to connect directly with clients. "It's been great being able to volunteer through work and provide a meaningful human connect for people who are wanting more social interaction," said Abbie.
"It can be hard to find to time to volunteer in our busy lives, especially at this time of year, but it's great to hear the participants' stories and respect their life experiences," she added.
"It's important we should be there for our clients, no matter what day of the year."
Meanwhile, home care workers in Geelong are doing their bit to ensure people who are isolated get to connect this Christmas.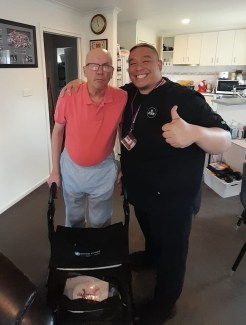 Giovanni Siano is owner of home care provider Home Instead Geelong. Many of his workforce are migrants unable to spend time with their families overseas. So instead, they will spend Christmas day with their clients.
"I was heartened to see people putting their hand up for Christmas day this year to ensure that our clients, many of whom are quite isolated, can feel some of the Christmas spirit," said Mr Siano.
Mr Siano came to Australia as a migrant himself from Italy in 2011. "I fully appreciate what it is like to feel lonely and now I feel privileged to be supporting our clients during these sacred celebrations."
Home Instead Geelong carer Gary Fanlo will be spending 25 December with the family of a person living with Parkinson's disease. "I am researching and coordinating with the family to make Christmas day special for this particular client. Last Christmas I took him to a family reunion which was also a priceless moment for him," said Mr Fanlo. "It's important that we should be there for our clients, no matter what day of the year – they deserve to enjoy their day too."
"Seeing the residents' faces light up is an incredible feeling."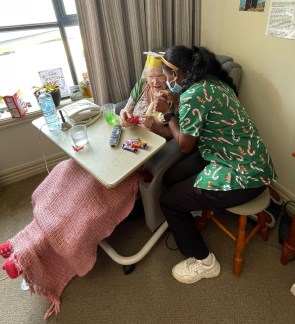 This December saw the return of the annual Guide Gift Run, where the team from aged care allied health organisation Guide Healthcare dressed up in their snazziest Hawaiian shirts and delivered presents to aged care residents across New South Wales and the Australian Capital Territory.
"The Guide Gift run is without doubt one of my favourite days of the year," said Guide Healthcare managing director Simon Kerrigan. "Walking in with the whole team laughing, spreading Christmas joy and seeing the residents' faces light up is an incredible feeling."
While Christmas should be a time of happiness, it can be a difficult time for people living in aged care, said Mr Kerrigan. "I've seen firsthand how lonely residents can get over the holiday period."
Pat is a resident at a Warrigal facility in Mount Terry, Albion Park in NSW. After a visit from the Guide Healthcare team earlier this month, Pat said: "Today has been magical. It was so wonderful to have lots of smiling faces roaming through our home. I loved the music and it really felt like Christmas."
Meanwhile, the Community Care Review team (pictured above) would like to take this opportunity to wish everyone a great Christmas and a happy new year.
We break from Wednesday 21 December until Monday 9 January when we'll return to provide you with all the latest aged care news for 2023.
Main image: Bolton Clarke's HOW-R-U? program has been adapted to support home care clients over the holiday period through weekly phone calls
Comment on the story below. Follow Australian Ageing Agenda on Facebook, Twitter and LinkedIn, sign up to our twice-weekly newsletter and subscribe to AAA magazine for the complete aged care picture.