Dementia training for GPs and practice nurses, consumer directed care capacity building and collaborative approaches to wellness and reablement are among the 64 projects to share $34 million in the latest round of Aged Care Service Improvement and Healthy Ageing Grants.
The successful projects from the 54 organisations are funded until June 2017 and address challenges in aged care through national and state and territory initiatives, Assistant Minister for Social Services Mitch Fifield said yesterday.
Alzheimer's Australia picked up the largest grant for a project, $2.2 million, to support the timely diagnosis of dementia through professional development on dementia assessment, diagnosis and management to 6,000 GPs and 2,500 practice nurses nationally.
The next largest grant went to COTA, which received $1.7 million to extend its Home Care Today hub to further build capability for providers and consumers to implement consumer directed care services.
WA not-for-profit Communitywest, which resources the sector to advance quality community care, received just over $1 million to implement a two-stage project that includes a pilot to explore a framework for wellness and enablement and developing resources for consumers, carers and organisations, such as peer education, communities of practice and online resources.
In South Australia, residential and community aged care provider ACH Group received a total of $1.7 million for three projects, which include initiatives to develop, trial and evaluate a reablement program for frail older people in the community, design test and evaluate a CALD partnership model with the Muslim community, and co-design, trial, evaluate and share the learning of a tailor-made respite model for younger people living with dementia.
Dogs and art for dementia
Senator Fifield visited Hammondville in Sydney on Tuesday to announce the grants including one for HammondCare and Assistance Dogs Australia to fund an Australian-first pilot.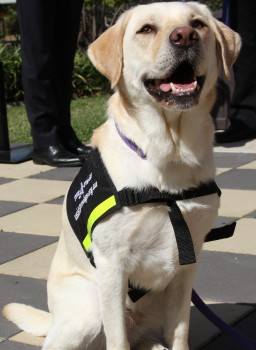 HammondCare received close to $1.5 million for its Dementia 4 Dogs project, which will implement an assistance dog model for people with dementia and their carers living in the community that will start placing dogs with couples in NSW and Victoria year from September.
Director of HammondCare's Dementia Centre, Associate Professor Colm Cunningham, said they looked forward to uniting their passion for improving quality of life for people with dementia with the work of Assistance Dogs Australia, which train and prepare labradors and golden retrievers to help provide independence to people with physical disabilities.
"Each couple and dog will be carefully matched and will be supported by both organisations for the duration of the pilot," Associate Professor Cunningham said. "Dogs 4 Dementia will assist with prompting tasks, hydration reminders, increasing socialisation, improved health and mobility support."
Additionally, HammondCare received $800,000 to lead a program using arts to improve the quality of life for vulnerable older people in partnership with the University of New South Wales School of Public Health and Community Medicine, UNSW Art + Design, and the South Western Sydney Medicare Local.
The program will link older people who are frail, socially isolated, battling chronic disease or who have problems with anxiety, depression or cognitive impairment with artists to explore and enjoy artistic endeavours in a group setting. Projects will be formally prescribed by clinicians, to reinforce the importance of proactive intervention and individual participation, HammondCare reported.
Rural and remote
A number of grants have gone to services for rural, remote and indigenous communities including $1.3 million to Aged & Community Services NSW & ACT, for a project aiming to build the capacity of smaller aged care services to deliver high quality consumer focused care in communities across regional and rural NSW and ACT.
In the NT, aged care provider Australian Regional and Remote Community Services received $1.1 million to go toward building an additional four self-contained single bedroom units for staff accommodation at Tjilpi Pampaku Ngura Flexible Aged Care in Docker River.
While in South Australia, Wami Kata Old Folks Home in Port Augusta received nearly $50,000 for two projects to support people working in Aboriginal aged care populations, and special equipment to meet resident needs such as specialised air mattresses and covers used to prevent pressure area wounds and power recliners for residents with mobility difficulties to use in sitting rooms.
As previously reported by Australian Ageing Agenda, other recipients include a collaboration between Pastoral and Spiritual Care of Older People, Spiritual Health Victoria and the National Ageing Research Institute, which received $455,000 to develop national guidelines for spiritual care in residential and community aged care and provide a range of tools to support their implementation.
Victorian aged care provider Benetas received $1.2 million to undertake research to identify and mitigate frailty in older people while disability services providers Senses Australia received $800,000 for their 'Ending the Isolation' project, which will assist aged care staff to identify when a person has a combination of a vision and hearing impairment.
The full list of grant recipients is available here on the DSS website