A pilot project at the University of Wollongong is providing academics and students across disciplines with the skills needed to address the growing challenge of dementia.
The Dementia Enabling University Strategy (DEUS) is the first of its kind at an Australian university and targets students studying from a range of disciplines including law, engineering, psychology, media and business.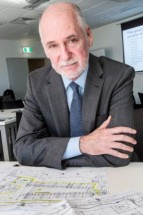 The project is funded by the NSW/ACT Dementia Training and Study Centre (DTSC) at UOW and led by its director, Professor Richard Fleming, and UOW dementia expert Dr Lyn Phillipson.
Professor Fleming said there was a pressing need to engage the intelligence and skills of the next generation of professionals to create new forms of infrastructure, treatment, care, service delivery, design and communication to foster an inclusive community for people living with dementia and their carers.
"The long-term goal of the strategy is to alert academics and students to the challenges and opportunities presented by the rising numbers of people with dementia in Australia and international societies," Dr Fleming told Australian Ageing Agenda.
"I find it hard to think of a discipline or a profession that can't make a contribution," he said.
Fitting within existing courses
The project team has been working with academics across UOW for around six months to determine how and where dementia-specific content may fit within existing courses, such as via guest lectures, internships, placements and projects, to offer students an understanding of real-world issues faced by people with dementia.
Among activities to date, academic and dementia advocate Kate Swaffer, who was diagnosed with younger onset dementia at 49, gave a guest lecture to journalism students on how dementia is portrayed in the media.
"Involving people with dementia in this project is a major step forward in reducing the isolation, stigma and discrimination, which are still the salient features of the lived experience of dementia," said Ms Swaffer, a UOW PhD student and member of the DEUS leadership team.
"I hope DEUS takes dementia beyond the medicalisation we currently face, to a new level of care and support as we engage and educate students in dementia generally, and to see how their own disciplines can ensure independence, autonomy and the human rights and disability rights of people with dementia are met, "she said.
Other dementia-specific content developed includes a new elective within the Bachelor of Laws exploring the relationship between the complex and contradictory roles of law in the lives of people with disabilities, including dementia, while students in the Bachelor of Social Sciences Dean's Scholar program will complete a module on leadership and dementia.
Elsewhere, engineering students will participate in a dementia-related project and solution-based design placements with funding to establish design studios to improve the knowledge and skills of future engineers.
Two ideas coming together
Professor Fleming said the strategy brought together a community-based initiative and the consolidated learnings from five years of university-based projects to form one very powerful idea.
He and Dr Phillipson were working on a project to help the NSW Kiama community become dementia friendly when she brought up the idea of dementia-friendly universities, he said.
"That rang a bell with me. First of all, it is a very powerful idea on the face of it, but also as part of the DTSCs over the last four or five years I have been trying to introduce dementia-related topics into undergraduate curricula in a variety of ways."
Those DTSC university-based projects have included essay competitions, work or clinical placements, scholarships, and funding and support for design studios for engineers, architects and designers in a variety of universities across Australia to success, Professor Fleming said.
Professor Fleming said there was still a long way to go to get the support of the university as a whole – a process which will require a time and senate approval – and proclaim UOW as dementia friendly or dementia enabling.
However, as a pilot, the project has already been highly successful, he said.
"We have demonstrated that it is possible to engage the interest of academics in this project and when they are alerted to the challenges and opportunities they become very enthusiastic advocates."
The pilot will continue until September, after which funding for the DTSCs ceases and the centres will be consolidated into a single national provider from October.
Professor Fleming said he hoped to be successful with their tender to continue the DEUS project under the new funding model.
Want to have your say on this story? Comment below. Send us your news and tip-offs to editorial@australianageingagenda.com.au 
Subscribe to Australian Ageing Agenda magazine