AUDIO: Translating wellness, reablement and restorative care approaches into practice is both an adaptive leadership and technical challenge, a leading consultant has told the Active Ageing Conference 2015.
Researcher, consultant and trainer Carrie Hayter, said the approaches now mandated under the Commonwealth Home Support Program and consumer directed care meant organisations and leaders had to change approaches and that required new technical expertise.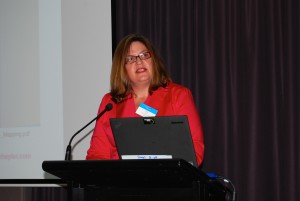 Aged care was created with the interests of providers and professionals rather than older people, and that while later years were historically defined as frailty and sickness, that was now changing, she told the conference hosted by Australian Ageing Agenda and Community Care Review.
The voices of older people were not heard in the past, but active ageing was emerging, which the government's economic framework of containing costs within a human rights approach underpinned, Ms Hayter said.
In developing and implementing wellness and reablement approaches in community aged care services, providers needed to engage with research and be clear about the benefits to clients, who might reject the concept or not understand what it meant, she said.
"We need to engage and connect with the research community and engage and learn from older people," she said.
Ms Hayter said it was the small steps that mattered and she encouraged organisations to be curious, test ideas and get behind frontline staff to translate the research into practice.
Speaking after her presentation, Ms Hayter tells AAA's Natasha Egan what a mandated wellness and reablement approach means for providers:
Want to have your say on this story? Comment below. Send us your news and tip-offs to editorial@australianageingagenda.com.au 
Subscribe to Australian Ageing Agenda magazine (includes Technology Review)