New research is exploring how training can improve the presence of aged care staff when caring for people with dementia.
Funded by HammondCare and led by Professor John Swinton, a world leader in spiritual care for older people with dementia, the research will offer insights and understandings that can strengthen training and practice to enhance person-centred care.
When describing what he meant by 'presence' to Australian Ageing Agenda, Professor Swinton said it was about maintaining a constant awareness about the person in front of you. "That they are not just a series of tasks, but that they are actually a human being that requires relationship, love, care – all of these things," he said. "Tasks are important but getting into that mindset where you're always looking at people as people is the essence of good care."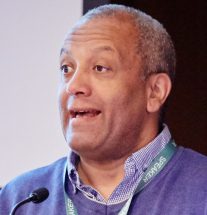 However, it's easy – when busy – to become detached and forget there is an individual in front of you, he said. Through his research, Professor Swinton hopes for aged care staff to be trained to "hold on to that human, spiritual dimension, even in the midst of busyness."
Professor Swinton's research – expected to be published by the end of the year – will explore the results of recent qualitative studies carried out in aged care facilities in Sydney. They found that if a lack of presence went unaddressed it could lead to poor staff practice. "What do we need to do to enable [aged care staff] to be fully present, particularly with people with communication difficulties – people with advanced dementia," he asked. "What do we need to do to overcome the possibility of absence?"
Culturally, absence is beginning to become normalised, Professor Swinton said. "Social media means you have four people around the same table and all on their phones to different parts of the world," he said. "You have a culture of absence that has developed in society. You take that into an aged care context and there would be difficulties."
The aged care royal commission highlighted the dangers of carers becoming absent, said Professor Swinton. If they're not completely aware of their surroundings they can easily fail to notice critical problems within the culture of their working environment.
Professor Swinton also pointed to criticism by the royal commission about a lack of meaningful engagement opportunities for residents living with dementia. "Meaningful engagement for residents is an essential component of quality care for people living in residential aged care facilities," he said.
While noting that it is crucial for aged care workers to maintain a professional distance from their clients so as not to get "overly involved", Professor Swinton told AAA it was all about striking an equilibrium. "Professional distance is important but at the same time presence is as equally important," he said. "We're trying to find the balance between professional distance and the significance of presence."
Comment on the story below. Follow Australian Ageing Agenda on Facebook, Twitter and LinkedIn, sign up to our twice-weekly newsletter and subscribe to AAA magazine for the complete aged care picture.