Registration for operators who are seeking to become NDIS providers will be streamlined from next year in a move that the government says will benefit speech pathologists, OTs and assistive technology providers.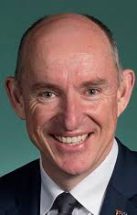 NDIS Minister Stuart Robert says the changes to the NDIS Provider Registration and Practice Standards, which come in response to feedback from across the disability sector, will ease disproportionate regulatory burdens faced by some sole traders.
In particular, the changes will benefit providers of low risk supports such as therapies, home modification and specialist equipment, he said.
Currently all providers that are bodies corporate are required to undergo a certification audits, regardless of the level of risk associated with their services.
From January 2020 audit requirements will be solely based on risk level.
Mr Robert says the changes will cut red tape for small businesses seeking to become NDIS providers without watering down safeguards.
"The rule changes announced today are a win for the vast majority of NDIS providers that are small businesses, such as speech pathologists, occupational therapists and assistive technology providers," he said.
"I know this is a welcome change which will ensure more businesses can continue to provide much needed support for NDIS participants right across the country."
Providers want more information
The national body representing disability service providers, NDS, said the changes would affect different providers in various ways.
"It's true that red-tape will be reduced for some members, which is a positive outcome," CEO David Moody told Government News.
"However, most NDS members invariably provide supports for which they will need to be certified, and this involves an audit by an independent third party."
Mr Moody also said NDS was still awaiting further information concerning the new requirements that the NDIS Quality and Safeguards Commission must be notified of any changes to service provision capability covered by a provider's registration.
"Our underlying concern is that these requirements will impose an additional burden on service providers who are already out of pocket for the considerable amount of unpaid administration the NDIS demands of them," he said.
More information about the changes is available here.