We knew the peak body merger issue was one that aroused strong opinions and much debate – but we didn't expect it to spread to AAA online.
As regular readers will know, we frequently run reader polls online as a way of gauging your opinion on important and topical issues.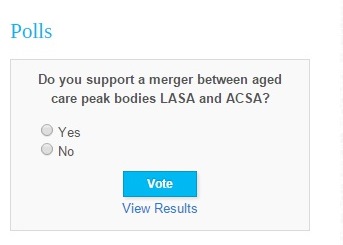 As well as taking part, readers can also click to see the number of votes registered and the result at that time. We generally carry the final results in the Community page in AAA magazine.
Since we began reporting on the latest events regarding the campaign by LASA for a merger with fellow peak ACSA, we have been running a reader poll asking whether you support such a merger.
Yesterday we noticed a dramatic increase in votes, within a short period of time. Upon investigation it appears that two individuals voted in excess of 110 times in the poll.
The advice we have received is that, to do this, they probably had to clear their browser settings to get around the inbuilt protection that precludes multiple voting by a single user.
Their attempt to skew the result in favour of the affirmative has invalidated the poll result – a most unfortunate outcome for the other readers who genuinely registered their vote.
We are declaring all this in the interests of transparency – as the poll will now be closed and the results trashed.
Readers can be assured that we are currently investigating a mechanism that will prevent rogue voters from repeating their actions – although we are unlikely to ask a poll question on the peak body merger issue any time soon.
As I say, some people clearly feel very strongly about the outcome!