Contrary to media reports of big profits for providers, the rate of increase to costs of care is greater than the increased ACFI subsidies being received, while the current accommodation results are not financially sustainable, writes Grant Corderoy. 
The aged care sector has recently been stung by media claims of substantial increases in profits, reduced care hours delivery and rorting of ACFI claims.
This has coincided with the media release from Minister for Aged Care Services Sussan Ley further highlighting alleged incorrect ACFI claiming and warning of reduced ACFI subsidies due to supposed budget blowouts.
It is important to now have a much closer look at the financial issues affecting the residential aged care sector.
The Living Longer Living Better reforms provided a clear distinction between 'care' and 'accommodation' revenue and expense steams, which was consistent with the Productivity Commission recommendations. These revenue streams need to be analysed separately.
The 'care' result directly relates to the provision of care, and the revenue is highly regulated and directly based on the frailty of residents, with the exception of optional services. The care result increased by 16 per cent from FY14, however this is still lower than the FY12 and FY11 results. It must be remembered that the ACFI subsidies encourage the admission of residents with increased levels of frailty to residential facilities, due to direct care expenditure amounting to only 77 per cent of ACFI funding.
In relation to direct care services provided, these are by majority variable in nature. In FY15 the ACFI subsidies covered on average 77 per cent of the costs of direct care expenses. Total care income (ACFI, Daily Care Fee, optional and extra services) as a percentage of direct care costs have intersected for the past three fiscal years, confirming that the increased costs of care is greater than the increased ACFI subsidies being received (see table below).
Accordingly, the resulting effect of reducing the ACFI subsidies in real terms will have a major negative effect on the sector, particularly as the bottom 50 per cent of the sector had a care loss of $5.18 per bed day for FY15.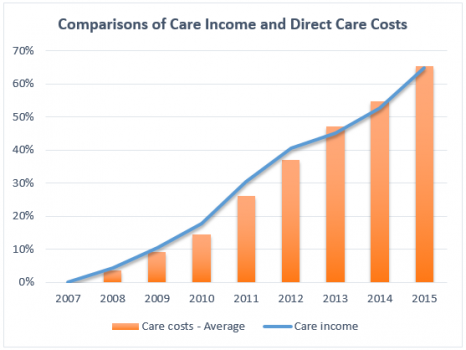 The majority of direct care costs are in relation to the provision of nursing and related care delivery. Care hours delivered for FY15 increased by 4.4 per cent in FY15, which is as anticipated due to increased resident frailty.
The remaining care expenditure includes hotel services (catering, cleaning and laundry), utilities and administration. The majority of these expenses are fixed by nature and not related to resident frailty.
Hotel services have increased cumulatively by 46 per cent since 2007 as compared to CPI (22.6 per cent) and COPO/COPE (19.8 per cent). Utility costs have increased by 97 per cent since 2007 and administration costs by 74 per cent.
The fundamental issue is: how are the providers expected to make up this difference in such a regulated revenue regime?
The 'accommodation' result directly relates to the revenue and expenses in regards to the residential aged accommodation provided. Resident frailty does not determine accommodation revenue and government subsidies are only provided for supported and partially supported residents.
Accommodation revenue is directly related to accommodation pricing, and the mix between RADs, DAPs, combination RADs/DAPs and supported subsidies. Accommodation expenditure is the cost of providing this accommodation, including repairs, maintenance, depreciation, insurance and bond interest paid.
The average accommodation result for the FY15 fiscal year was $0.03 per bed day. This was after building depreciation expense of $9.46 per bed day, which we believe is largely understated given that the average length of time between major building internal refurbishments (to maintain market acceptability) is probably somewhere between 10 to 12 years. The current accommodation results are not financially sustainable.
Ultimately, as with any industry sector, the ongoing financial viability for residential aged care is essential to ensure continued quality service provision.
Analysis and future decisions around the financial sustainability relating to residential aged care will be of continuing increasing importance in our society, and accordingly deserves significant involvement from all stakeholders.
All figures quoted in this article are taken from the StewartBrown Aged Care Financial Performance Survey –2015 Financial Year Report, released in October 2015.
Grant Corderoy is senior partner, aged care and community services, StewartBrown, a chartered accountancy firm. 
Want to have your say on this story? Comment below. Send us your news and tip-offs to editorial@australianageingagenda.com.au 
Subscribe to Australian Ageing Agenda magazine (includes Technology Review)