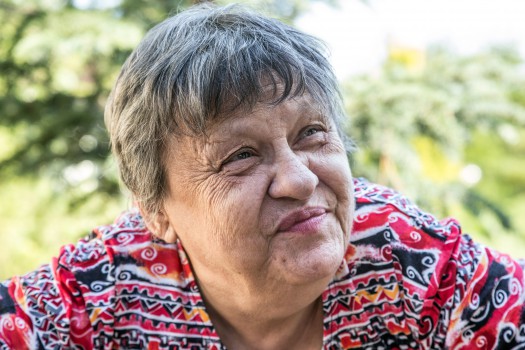 This is a perfect exercise in doing away with the paperwork, picking up an audio recorder and asking the questions to bring out the voice that so urgently needs to be heard, writes Dr Maggie Haertsch.
Grief, loss, isolation and loneliness are all too common as we age. Lack of personal knowledge, individualised service and the often cited 'person-centred care' phrase present an equally common challenge in the delivery of meaningful aged care support. One highly effective solution is for older people and their families to record and share their life stories and aged care professionals are ideal facilitators to make this happen.
We interpret our lives through stories. Think about it for a minute. When we get home from work just how often do you recount the days' events to a willing listener? Our conversations are full of stories, examples of life that we draw on to make a point and to help illustrate an experience in the hope that it connects us to someone. A great story resonates with us emotionally and can be remembered for a long time, just like a book or movie. The power of telling your own story cannot be underestimated and to record it could not be easier.
There are many initiatives of recording peoples life stories across aged care services. Indeed it is not surprising the powerful impact a person's story retold can bring to a family and the staff, as explained in a study of life story telling in Victoria (read the research paper here).
"Through his story I understood what he needed, not what we wanted, it's what he needed. It's had a major impact."

"If she's agitated I try to talk about the good old days when she used to help her father with the horse and cart doing deliveries. I wasn't privileged to that information before. It helps manage her behaviour."
Beyond Words is a group of volunteer biographers to help document the written life stories of older people.
Aged care services like UnitingCare Ageing and Baptist Community Care have created storytelling projects – as featured in an Aged Care Channel program. Education programs offered by organisations like Timeslips in the US help to create stories for people with dementia using visual experiences from photographs enabling the freedom of their imagination to be expressed without pressure to remember stories of the past.
In their own voices
One of the most powerful ways to tell a story is through the audio recording of the person's voice. It has the effect of a radio story where our mind is left to imagine the scenes and our emotions are touched by the tone and pacing of the voice. Audio brings a story to life and such a simple recording done as an interview can be easily captured on any smartphone voice recorder with very high quality.
An impressive organisation is on a mission to record the stories of every day people  throughout the US. With every copy made of the interview a second is lodged in the national archives so that people learn firsthand about their family members for generations to come. Story Corps has recorded close to 100,000 stories since they started in 2003 with a recording booth in New York's Grand Central Terminal. This powerfully passionate TED Talk by the founder Dave Isay gives us all an important call to action. Imagine the possibilities if every person in an aged care service has an audio recording prepared early enough before dementia progresses. Think of the questions you would ask, the connection that could be felt and the memory of that person preserved.
If you are stuck on what questions to ask, Story Corps have very helpful guides (available to read here). The empathy that develops through listening to a person's story can only serve us better to truly respect that person as an individual, to be cherished and cared for, connecting the human spirit of a long life lived.
This is a perfect exercise in doing away with the paperwork and picking up an audio recorder and start asking those questions to help bring out the voice that so urgently needs to be heard.
Dr Maggie Haertsch is executive director and CEO of the Arts Health Institute, a non-profit organisation working to improve lives through the integration of the arts into all aspects of health and aged care environments.
Australian Ageing Agenda is media partner of the AHI.