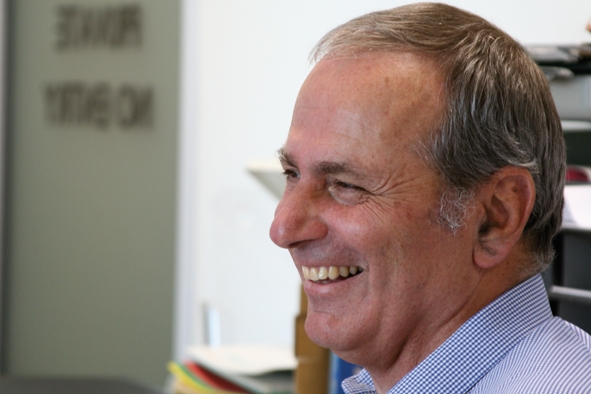 Pictured: Tom Valenta, author of Remember me, Mrs V? Caring for my wife: her Alzheimer's and others' stories
By Tom Valenta
Click here to see a AAA news report on Tom Valenta's views
There were around 66,000 Victorians with dementia in 2010. This number is projected to increase rapidly as our population ages. In 2050, there will be an estimated 246,000 Victorians with dementia.
These stark statistics are from an Access Economics study commissioned by Alzheimer's Australia Vic.
There are many other statistics that tell the story of the looming crisis in healthcare and aged care. According to the Australian Bureau of Statistics (ABS), dementia was the third largest cause of death in Australia in 2008. The ABS data also showed the presence of some form of dementia in a significant number of cases where the primary causes of death were other conditions such as diabetes and pneumonia.
To prepare for the immense challenges that lie ahead Alzheimer's Australia Vic held a dementia think tank in late 2010. The purpose of the think tank was to develop strategies that will assist the organisation to:
• develop and deliver the best possible services
• be a powerful and coherent advocate for its 'constituency'
• promote the need for medical, scientific and social research
• ensure that optimal funding is allocated to all aspects of the dementia epidemic
The think tank was attended by more than 30 people. They included representatives from a wide range of organisations such as State Trustees, Palliative Care Victoria, the Office of the Public Advocate, Villa Maria Society, Victoria Police – Missing Persons, Centrelink and beyondblue.
There were two guest speakers, Laureate Professor Colin Masters from the University of Melbourne and me. Professor Masters is also Executive Director of the Mental Health Research Institute and he is recognised as an international leader in dementia research. He has made an enduring contribution to the advancement of knowledge of Alzheimer's and some other forms of dementia over more than 30 years and has received many accolades for his work.
I, on the other hand, am not a scientist or healthcare professional. I have contributed nothing to the scientific knowledge and understanding of the condition. My only reason for being at the think tank is my personal experience with Alzheimer's disease and perhaps the book I wrote about my experiences of being a carer.
My wife Marie was diagnosed with Alzheimer's in early 2003 at the young age of 54. She died in October 2009 aged 61. If I were writing an obituary I would end it by saying she is survived by her husband, one daughter, two sons and five grandchildren. I'd much rather say that she was a proud, fiercely independent and deeply compassionate woman who faced her diagnosis which she knew would result in her death, with courage and composure. She died less than a month after our 39th wedding anniversary.
The think tank was, for me, a powerful and essential statement of intent. It was a timely rallying call for the mobilisation of resources that will be required to deal with the looming dementia crisis.
It is generally agreed that there have been major advances in the early detection of dementia and Alzheimer's in particular, but we still appear to be making little progress in the search for therapies that, if not cures, will hold the disease at bay for a number of years. This is why we must plan for the epidemic and not rely on science to solve our problems. If there are viable medical interventions in the meantime we can regard them as a huge bonus.
The immense pressures on public and philanthropic purses will only increase in the coming years. The ABS estimates that the charitable and not-for-profit sector is a $25 billion industry with governments providing, directly or indirectly, more than half. These numbers should increase significantly over coming years largely due to our ageing population. So the sector's participants will need to be commercially clever, persuasive, well connected, able to demonstrate excellent service delivery and accountable for every dollar they spend if they want to survive, let alone thrive.
A critical success factor will, in my opinion, be the ability of organisations such as Alzheimer's Australia Vic to coalesce with common interest or like-minded organisations. The sharing of resources, ideas and methods for delivering outcomes has to be the way of the future. For far too long I have witnessed not-for-profit organisations squabble over resources like hungry seagulls at a desolate beach. The idea of joint-venturing, resource sharing or working towards common goals seems to have been lost on many of them. This must change and I suspect governments and other funding bodies will, in the future, look more kindly on organisations that can unite for the common good.
The presence of such a diverse range of organisations at the think tank leads me to believe that there can and will be a 'coalition of the willing' driving the dementia agenda in Victoria from now on. The organisations might be diverse but the commonality of interest was self-evident to all attendees. Maree McCabe, the new Chief Executive Officer of Alzheimer's Australia Vic, has hammered a stake into the ground by recognising the potential of working with many other organisations and attracting them to participate in this forum. Hers is an enlightened and forward-looking approach.
My commitment to the cause is no longer about Marie. It's about my children, grandchildren and generations to come. There is now evidence to suggest that younger onset dementia does have some hereditary or familial links. I do not want any of my family to suffer as did Marie. I'll never be able to contribute in the same way as Professor Colin Masters but there is always a contribution that a lay person can make.
Tom Valenta is author of Remember me, Mrs V? Caring for my wife: her Alzheimer's and others' stories – Michelle Anderson Publishing, Melbourne. http://www.michelleandersonpublishing.com/general_health.html tvalenta@bigpond.net.au
Copies of Tom Valenta's book can be purchased from Alzheimer's Australia's bookshop with all proceeds going directly to Alzheimer's Australia. Contact Tom Valenta by email. You can also read the story written by Keryn Curtis about this called, Make love, not war.