The next generation of older people will have worked hard to remain physically and mentally sharp, only to be confronted with an ageism that is apparent in social and aged care policy and practice, writes Patricia Edgar and Don Edgar.
The successful middle-aged are generally self-motivated and community-minded, manage their routines and their needs independently and, although lonely from time to time, most are not isolated.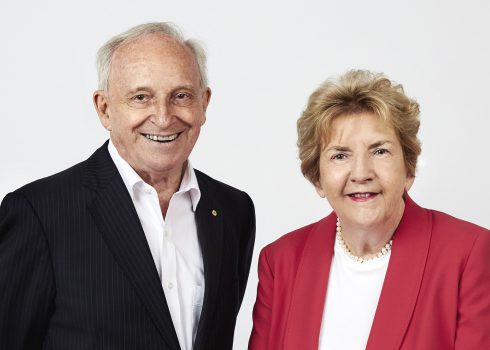 They are not consumed by regrets and have learned to live day by day, remaining interested and interesting. Throughout their lives they have felt loved and worthwhile.
Researchers argue the need to encourage positive mindsets and combat the negative stereotyping of middle and old age.
An Ohio longitudinal study of people aged over 50 who were followed for 23 years found that those with a positive attitude to retiring eventually from work (not necessarily at a fixed age) and who believed their physical and mental health would continue, lived 7.5 years longer than those who anticipated decline.
They had a better memory, quicker recovery from illness or disability and a 41 per cent decreased mortality risk.
We suggest improved policies about working more flexibly as we age—an end to the sudden-stop form of retirement we have at present—would go a good way towards improving both attitudes and longevity itself.
Lorraine Bayly, best remembered for her role in The Sullivans, and recently performing in The Sound of Music, has embraced a new challenge every decade in order to stay mentally sharp. At 60 she took up the saxophone, at 70 tennis, and at 80 she plans to take up French or Spanish.
A large number of the Baby Boomers who are now in their late middle age have followed similar strategies as they get on with the challenges life is throwing at them.
A study by Warwick University economists, which followed 50,000 adults in Australia, Germany and Britain throughout their lives, suggests that life satisfaction diminishes steadily from early adulthood, reaching a nadir somewhere in the 40s, and then picks up again as one grows older.
Life improves the further one proceeds into the peak years of middle age. The study found that this phenomenon is not influenced by circumstances or culture but is universal.
Unfortunately, various social and economic policies work hard to pull people down in their peak years.
Middle-agers are spoken of in negative terms, labelled as an homogenous group, denied opportunities and sometimes ridiculed and pitied. But middle-agers are now making their voices heard and they want to be recognised as individuals with contributions to make.
Making a meaningful contribution
Isolation is a health hazard. A report released by the Victorian government in April 2016, Ageing Is Everyone's Business, estimated there are 107,000 people over the age of 60 who are struggling with chronic isolation.
The 10 per cent of older people who are lonely (they are more likely to be men than women) are at increased risk of heart disease, depression, disabilities and high blood pressure.
Lack of opportunity to make a meaningful contribution to society is a major factor in ill health and premature death, and negative social attitudes and policies about ageing exacerbate that situation.
Isolated people are 50 per cent more likely than those with family and community support to die earlier; the risk is similar to that of smoking and alcohol consumption. The report recommends that local government should strengthen service responses for socially isolated people.
Policy in the area of spiritual care also needs development to provide structures and processes that nurture the spirit to help people cope with isolation, grief, crisis and ill health, and support a meaningful existence right up to death.
Technology fosters connections
More and more middle-aged and senior Australians use digital technology to improve their connections with family, friends and the wider community. They go online to shop, bank, pay bills, book for restaurants and theatres, arrange travel, research anything from upcoming storms to crossword clues, settle arguments on any topic, communicate with family and friends, and keep in touch with local and world events. Many join an online dating service or study courses online. Social networking can be a boon for all, but particularly for those who live alone.
Technology on its own, however, will never be enough. People need physical contact, and that includes sexual contact. Denial of sexuality in the middle-aged population is not only perpetuated by the media but by research that excludes older adults from samples.
The British National Survey of Sexual Attitudes and Lifestyles samples only adults aged 18 to 44. The Australian Study of Health and Relationships did better in 1994, extending their sample age from 18–59 to 18–69.
The assumption behind such sampling is that those beyond 69 would not engage in sex because they are frail, impotent and lacking in desire. This myth is debunked by new research.
A 2013 study by Sue Malta of the National Ageing Research Institute found that women aged 61–85 years were just as likely to initiate new relationships on online dating websites as men of the same age. She discovered that those relationships became sexual quickly, and for many women these sexual experiences were more enjoyable than their previous (mostly) long-term married experiences.
Some participants in the study had a series of short-term relationships and others had multiple partners. A study of 602 women aged 45–70 found the majority to be sexually active. Even those with a chronic illness had found ways to be sexually intimate, indeed many women reported that their sex life was better as a result.
Intimate satisfying partnerships lead to longer quality living with health benefits, including increased relaxation, decreased pain sensitivity, improved cardiovascular health, lower levels of depression and increased self-esteem.
However, ageism in the health profession is apparent through the lack of sexual health policy relating to the needs of middle-aged and older adults, including the transmission of sexual diseases in late-life partnerships.
More open discussion and acknowledgement of human needs must be part of the longevity revolution.
Patricia Edgar and Don Edgar are leading social researchers and commentators, and ambassadors of the National Ageing Research Institute. This is an edited extract from their new book, Peak: Reinventing Middle Age (Text). Ms Edgar is also the author of In Praise of Ageing (Text, 2015).