An elevated aged care cleaning profession can better serve residents and other facility staff, writes Errol Goldberg.
Cleaners may be among the more undervalued workers in an aged care facility, but they are increasingly playing a crucial role.
Cleaning specialist John Taylor, an industry veteran who has been involved in aged care cleaning throughout his lengthy career, says many aged care facility cleaners do more than simply clean.
They often end up playing the role of friend and confidant to residents, who may be reluctant to interrupt busy nursing staff but happy to share useful information with their cleaner, who can then pass it on to care staff, he says.
Likewise, the simple act of aged care cleaners listening to aged care residents can provide a healing effect.
Like the general Australian population, it is well recognised that the cleaning workforce is ageing. A 2016 survey into Australia's aged care workforce found the average age of a residential aged care employee was 46, but the average age of cleaning staff is estimated to be in their mid-50s.
While maturity can be an advantage, having older workers involved in cleaning has potential implications for the bottom line, including the higher risk of injury. As people age, they are more susceptible to certain injuries and they don't heal as quickly.
According to Safe Work Australia, 19.5 per cent of serious claims in 2014-15 were made by workers aged 55 and over, an increase of 105 per cent from 2000-01.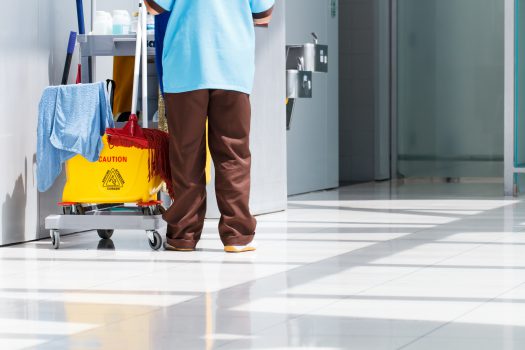 However, many long-serving aged care employees first entered the industry via cleaning roles. And while they may be ageing themselves, today's cleaners are an important part of the future of the aged care industry.
They are experts who will shape the aged care leaders of tomorrow, so they should be protected and encouraged to stay in the industry for as long as possible via training opportunities and equipment that helps them to be more productive.
This greater risk can affect bottom-line operating costs for an aged care facility via an increase in Worker's Compensation insurance premiums. Add to that the cost of return-to-work programs and absences, which can be expensive and also interrupt day-to-day operations in aged care.
It's also worth noting that aged care cleaners are less transient than cleaners in other sectors. Cleaners in the aged care sector often stay in their roles for many years as a result of taking pride in their job and caring deeply about the residents.
But with an ageing workforce, it is also increasingly difficult to attract new workers to cleaning in the aged care sector. Cleaning overall suffers from a poor image and it can be hard for the sector to compete for skilled workers when wage increases are very modest.
According to John Taylor, because of their vast experience and long tenure, mature workers in aged care are sometimes reluctant to adopt new work methods when they are introduced.
There are many ways the aged care cleaning profession can elevate itself – more training, better quality equipment and use of new technology.
The challenge for aged care operators or operations managers is getting cleaners to embrace new work methods or bringing cleaners together in a central location to attend training.
Despite the reticence, there are obvious benefits to embracing new equipment and methods.
Challenges of ageing residents
The Federal Government's GEN Aged Care Data tells us that over the last 10 years entry to aged care has tended to take place later in life. This means that a higher proportion of residents now have acute healthcare needs, including an increase in the incidence of dementia.
As a consequence, the aged care industry is looking for ways to manage an increasingly complex set of needs that will likely also call for new approaches to cleaning.
The challenge lies in addressing all these emerging needs without adding operational costs, at a time when the media spotlight is highly-focused on issues such as the neglect of aged care residents, care costs, quality and transparency.
The aged care sector also has specific cleaning challenges around dementia and poor mobility.
The efficient operation of aged care facilities will continue to offer challenges to the cleaning industry as the Australian population ages and the baby boomer generation moves into aged care over the coming decades.
The challenge is to elevate the professionalism of the industry to better serve the customers and workers.
Errol Goldberg is managing director of Pall Mall, which provides specialist accessories for the commercial and industrial cleaning sectors to distributors and wholesalers.
Comment below to have your say on this story
Subscribe to Australian Ageing Agenda magazine and sign up to the AAA newsletter