My research has shown that one in six family carers have seriously contemplated killing themselves – it's time for all of us, from researchers and policy makers to aged care providers, to do much more, writes Dr Siobhan O'Dwyer.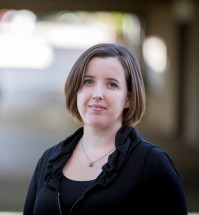 I'd like to start by making a confession: I love the Batman films.
My love affair began in the early 1990s – lying on my bunk bed watching Jack Nicholson as The Joker – faltered briefly during the George Clooney/Val Kilmer era, and reached new heights when Christian Bale donned the mask. As someone who is deeply committed to independent and art house cinema, it's an unlikely obsession. But something about Batman resonates with my sense of social justice and my desire to fight for those who can't fight for themselves.
Although I'm a movie buff by night, by day I am a researcher. My research focuses on the wellbeing of family carers and I use my findings to advocate for greater recognition and support for people who are caring for family members with dementia. In particular, I conduct research on, and advocate for, carers who are contemplating suicide or homicide. My research has shown that one in six family carers have seriously contemplated killing themselves and 20 per cent of those are likely to attempt suicide in the future. It has also shown that some carers contemplate killing the person with dementia, out of frustration, fatigue, compassion or self-defence.
Although this research is new – noone has ever asked carers about suicidal or homicidal thoughts before – what it highlights is not. In the academic literature, research on "carer burden" dates back to the 1950s. That's six decades' worth of research showing that caring takes a physical and psychological toll, and providing evidence of higher than average rates of physical and mental health problems in carers. Literary and artistic representations of the challenges of caring also abound. Did you know, for example, that Louisa May Alcott was a carer? In her letters, the author of Little Women bemoaned the fact that caring interfered with her writing.
So with all this knowledge, why are carers still struggling? Why are they still sacrificing their physical, mental, and financial health? Why has nothing changed?
Recently, on Twitter, I came across a Venn diagram that I think might hold the answer. The circle on the left was labelled community stability. The circle on the right was labelled Invisible Work. And the overlapping bit in the middle? Batman and family carers!
That's why nothing has changed. Carers are invisible and the work they do is essential to the sustainability of our society. Without carers, the healthcare system would be overwhelmed. GPs would be booked months in advance, hospitals would be bursting at the seams, and aged care facilities would be struggling to keep up with demand. Without carers, the community care system would also be overwhelmed. People living in their homes would need round-the-clock support for feeding, showering, dressing, and managing money, medications, and household maintenance.
More than 300,000 Australians are currently caring for family members with dementia. Even more are caring for older people with other conditions or disabilities. Of those caring for family members with dementia, one in four spend more than 40 hours per week providing care and the total value of care provided has been estimated at more than $30 billion per year.
Although the Carers Payment and the Carers Allowance provide a small monetary stipend, it's not enough to live on if you have given up your job to care, and it's a far cry from the amount required to cover all the costs of caring for a family member with dementia. A recent study from the United States reported that over the last five years of their life, the average out-of-pocket care cost for a person with dementia was US$61,522.
Most carers also have access to respite care, but the 63 days supported by the government don't go far and many carers tell me that the quality of care often means that 'respite' creates more stress than it relieves.
And of course, these are just the challenges facing white, middle class, urban, heterosexual carers. For carers in rural and remote areas, carers with English as a second language, carers with indigenous heritage, carers who are LGBTI, and carers in low-skilled jobs, these difficulties are compounded by the challenges of distance, language, colonisation, stigma and poverty.
Is it any wonder then that carers are invisible?
Busy, disenfranchised, and struggling to make ends meet, they don't have the time or the energy to demand better.
Many carers also feel guilty asking for help – feeling that they're betraying the vow of 'for better or worse' or failing to live up to the picture of the good daughter or the dutiful son. But just because you love someone, doesn't mean you don't deserve support.
Carers Australia and each of its state offices do an amazing job of supporting carers and advocating on their behalf. As do Alzheimer's Australia and other peak bodies. But more is needed. In Carers Week 2015, Senators Rachel Siewert and Claire Moore moved a motion for the Australian Senate to acknowledge the wonderful work of carers. But this is not enough. From researchers to policy makers to neighbours, everyone can be doing more to support carers.
For those of us doing research, we must resist the pressure to publish more papers saying the same thing. Instead, we should be synthesising the existing evidence, addressing the gaps, and working with advocacy organisations, service providers, and policy makers to help them translate the evidence into meaningful policy and practice.
For those in policy and politics, you must move from acknowledgement to action. As the population ages and rates of dementia rise, a growing number of Australians will be required to take on caring responsibilities. Research also suggests that, by 2029 the demand for family carers will exceed supply by more than 160,000 hours per year. Supporting carers is not a cost, it is an investment in the long-term health and wealth of Australia.
For those in health, community, and residential care, you must work in partnership with family carers, recognising that they are your best ally in understanding the needs of a person with dementia, or other condition, and delivering effective care.
For those in the community, it's the little things that make a difference. Cook a meal, do a load of washing, offer to take over for an afternoon. A small contribution from you can make a big difference to a carer who is struggling.
In the film The Dark Knight Lt Gordon says of Batman, "He's the hero Gotham deserves, but not the one it needs right now." Carers deserve a hero and they need one now. As a community, we can be that hero. So this is me, sending up the bat signal. Will you take up the fight?
If you, or someone you know, is a carer and needs support, help is available from the Suicide Call Back Service (1300 659 467) the Carers Advisory Service (1800 242 636) and the National Dementia Helpline (1800 100 500).
Dr Siobhan O'Dwyer is a senior lecturer at University of Exeter.