Aged care providers will need to actively manage the impact of safety measures required during the pandemic to maximise the emotional and mental wellbeing of residents and staff, an aged care forum has heard.
Industry peak body Leading Age Services Australia held a forum on Tuesday on the future of aged care and COVID-19.
Whiddon Group has been focus on the effects safety measures are having on residents and staff as it moves forward through the pandemic, said CEO Chris Mamarelis.
"We have been responding to the environment around us and taking appropriate measures… always at the same time taking into consideration our team, our employees, and the effect it's having on them, and the impact on residents, clients in home, and the feedback we get from families as well. It's this fine balancing act of doing all of that and making sure you're mitigating the risk," Mr Mamarelis told the forum on Tuesday.
"I think that there's a role for a whole suite of measures and that role will continue going forward, be it the PPE [personal protective equipment], the screening tools and measures that we have in place, the education and of course, the communication and keeping that communication flow going," Mr Mamarelis said.
As the sector begins to ease restrictions, getting the balance right is important, he said.
"As we go forward, I think we have to have our hands on those levers and be able to pull them. Whether it's intensifying RAT [rapid antigen testing] testing or increasing PPE to respond to that environment, I don't think we want to get too relaxed, because I think it's here to stay for a while," he said.
Mr Mamarelis recommended other providers do the same.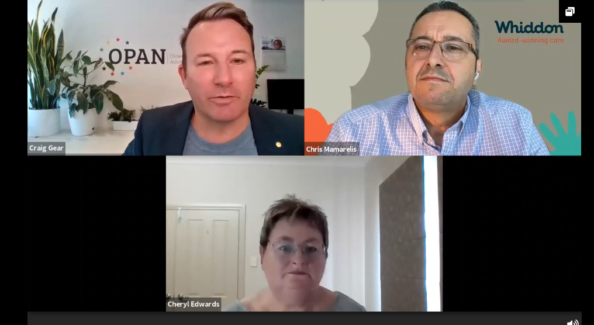 The forum also heard from Older Persons Advocacy Network CEO Craig Gear, who agreed about the need to balance risk mitigation with wellbeing.
"The screening is going to be really important," Mr Gear told the forum.
"I think that we need to also trust people that the majority of them do do the right thing… and educate people to say it's still out there. And even though you might be double vaxxed, your staff are double vaxxed, your visitors are double vaxxed, it is still a possibility that this virus could still get in."
However, Mr Gear said it was important to be proportionate in any response and warned against being overly cautious in recognition of the massive impact restrictions have had on older people.
Communication key moving forward
Mr Mamarelis also said the aged care sector and government needed to both learn from previous outbreaks to prepare for "inevitable" future waves.
"One of the key issues that we see is working with all these different agencies – the Department of Health, New South Wales Health, the quality and safety commission – is then the coordination around that, the communication around that, the ambiguity that currently exists there. There's confused leadership messaging there, there's a whole package of issues attached to the way we function today's health ecosystem," Mr Mamarelis said.
"And we know what those issues are, we've learned from them. What I'm hoping is in this current sort of lull that we're in with Delta, by the time it ramps up again, we can bring those learnings together and improve. And there are things happening," he said.
Mr Mamarelis also said public health services and aged care homes, particularly in regional areas, should work to better coordinate and plan for outbreaks.
Aged care homes and hospitals should work together to share facilities including staff, laundries and kitchens if one has an outbreak, he said.
"To me it's kind of insane that we're all together in this and you hear all those slogans about being in this together, but because of state and federal jurisdictions, we're not having these discussions," Mr Mamarelis said.
LASA's From Pandemic to Endemic: The Future of Aged Care webinar took place on 30 November.
Comment on the story below. Follow Australian Ageing Agenda on Facebook, Twitter and LinkedIn, sign up to our twice-weekly newsletter and subscribe to AAA magazine for the complete aged care picture.