A vibrant workplace culture based on clear expectations and organisational values is helping an aged care provider continue to have an engaged workforce during COVID-19, the CEO has told an industry conference.
Allambie Heights Village CEO Ciaran Foley said the right messages to engage staff during COVID were the same as other times and for him that involved clear expectations.
Mr Foley started sharing his expectations with every staff member two years ago to ensure they had a clear understanding of the organisation's values, and he said it played a key role in an engaged workforce.
"I sat down with every single member of staff, whether they've been with the company for 16 minutes or 16 years [for]… a 25 minute to 30 minutes orientation and I called 'my expectations of staff'," Mr Foley told the Strengthening the Aged Care Workforce conference on Wednesday.
The top expectation is that residents come first, Mr Foley said.
"No residents [means] no wages, no staff, no business. And it really begins to focus, I believe, all of us in one direction – towards our residents," Mr Foley said.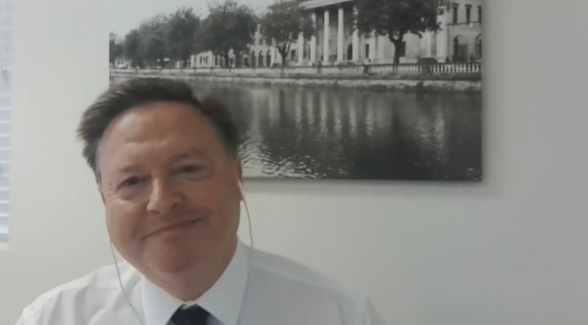 Respect is another expectation, which starts with staff respecting themselves and their appearance, he said.
"We make sure that people are presenting well because that's the first bit that our residents see, and that's a sure sign that if you respect yourself… it's showing residents that you're respected [by other people]," Mr Foley said.
Other expectations include being loyal to residents and the company, having compassion, being fair and ethical and continuing to strive to be better every day, he said.
Sharing good stories
Mr Foley said it was important to share positive stories, especially during the pandemic.
Allambie Heights Village became known as Fortress Allambie when its lockdown commenced earlier this year. It recently celebrated 200 days of being flu and coronavirus free.
He said the idea was to set up lines of defense and create a safe fortress.
"We're under siege from COVID-19 and we will protect our residents in the most important way we know, and every way we know."
Mr Foley said they shared milestones and targets as they met them, such being flu and COVID-free at 50 days, 75 days and 200 days.
The Fortress Allambie initiative was picked up by several media outlets including Channel Seven, Channel Nine, The ABC and The Australian.
"And of course the great message that's getting out there is that we will ensure that we do everything around infection control, and all the other things to keep everything as normalised as possible, because everyone wants to hear a good news story," he said.
Positive workforce culture
Mr Foley said having an engaged workforce culture also involves giving and receiving feedback.
"Everyone has a right to receive feedback, whether it's good feedback, or whether it's difficult feedback to hear," he said.
"A person should be receiving an appraisal once or twice a year, so there's no surprises but a great opportunity to tell them how well they're doing. Or to say a few things that need to change and for them to give feedback too."
Celebrate and rewarding staff who are doing a great job is another aspect ofa positive workforce culture , Mr Foley said..
"Let's celebrate effort and the kindness that's shown sometimes by so many of our staff, who go that extra mile. That's something special," he said.
The Strengthening the Aged Care Workforce conference took place on 21 – 22 October as a virtual event.
Comment on the story below. Follow Australian Ageing Agenda on Facebook, Twitter and LinkedIn, sign up to our twice-weekly newsletter and subscribe to AAA magazine for the complete aged care picture.